2 arrested in Teen Town vandalism; vols turn out to repair damage
| | |
| --- | --- |
| 8/17/2016 | By Patsy Nicosia |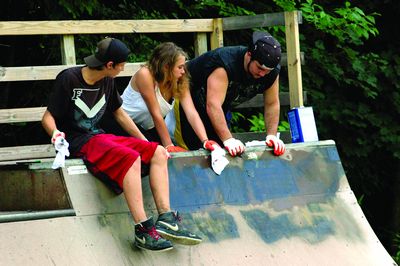 Angry over vandalism in the Village of Cobleskill's skateboard park at Teen Town, about a dozen teens and a handful of adults spent Saturday morning cleaning up and making repairs there.
According to Cobleskill Police Chief Richard Bialkowski, two juveniles have turned themselves in in connection with the vandalism, which began sometime the weekend of August 6-7.
The two have been charged with criminal mischief and police are still looking for at least one more individual, he said.
Among the damage: Windows of the Teen Town building were shot out with a BB gun, grafitti was sprayed on the ramps at the skate park, and the gates at the basketball court were broken off their hinges.
Additionally, Chief Bialkowski said, a video of a Jeep driving over some of the skateboard ramps was shown on social media.
"It didn't all happen in one night and there are several individuals involved," he added.
Mayor Linda Holmes, who supervised Saturday's cleanup and repairs efforts, said it doesn't look like they'll have to replace any of the plywood on the skateboard park-something that costs about $200 a sheet.
"I'm not sure how we could have managed that," she said.
But still, this kind of vandalism is very upsetting. It's needless and it's cruel."
Chief Biaklowski said police patrol the Teen Town grounds regularly, but because it's so heavily wooded and there's just one access point, it's difficult to catch vandals in the act.