Hospital auxiliary bulbs will "Light the Night Pink"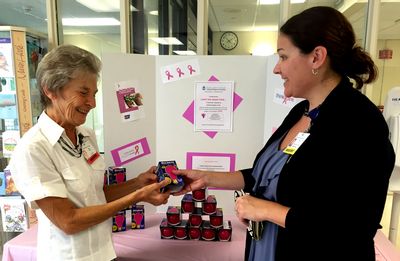 Pink light bulbs are currently being sold by Cobleskill Regional Hospital's auxiliary volunteers to help bring attention to Breast Cancer Awareness.
October is Breast Cancer Awareness month, and folks all over the county are being asked to help with the effort to "Light the Night Pink" all October.
"I first witnessed the 'Light the night Pink' initiative in Western New York a few years ago, and it immediately got my attention," said Mary Miller, CRH auxilian, who is leading the effort.
"Seeing whole neighborhoods lit up in pink for a cause is quite remarkable, and I thought it would be important to bring this concept to Schoharie County."
One in eight women are diagnosed with breast cancer during their lifetime. Studies show that the best defense is a plan for early detection. Women need to perform regular breast exams, and schedule routine mammograms.
Pink light bulbs can be purchased on weekdays from 8am-3pm in the hospital Coffee Shop, or by calling 254-3210, while supplies last.
All proceeds raised through pink light bulb sales will be applied towards planned enhancements to Cobleskill Regional Hospital's mammography equipment.
CRH hospital administrators have already announced plans to offer 3D Mammography technology to the Schoharie County community in 2017.
"We all know someone who has been affected by breast cancer, and these pink light bulbs give us all a way to honor those affected. It also helps to raise awareness that early detection is key to survival", said Ms. Miller.