16-year-old Ben Healy blows them away at Patriot Highlander Challenge
| | |
| --- | --- |
| 9/21/2016 | By Patsy Nicosia |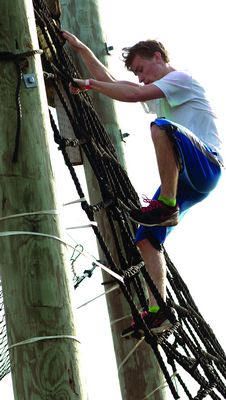 Sixteen-year-old Benjamin Healy of Middleburgh blew the competition away Saturday at the 3rd annual Patriot Highlander Challenge.
Part of the first-out round of competitive six-mile runners, Healy barely broke a sweat to post a 44:23 time.
Andrew Bischoff was second at 47:28; Michael Desens finished third with a 58:34 time.
Chantal Little was the first woman to cross the finish line, 58.34, followed by Kestral Suscy, 1:01:25, and Jillian Smith, 1:01:30.
The Patriot Highlander is a fundraiser for the Wounded Challengers of Honor and features three- and six-mile courses over obstacles that include walls, a mud pit, and the infamous Battle of Saratoga.
SGT(R) Ryan Major, who lost both of his legs in Iraq, was this year's Challenger of Honor.
With help from his Adaptive Sports team and 2015 Challenger of Honor Mike Kacer, Major, who said he's always been an athlete, completed the course to the cheers of fellow competitors, veterans, and friends.
Top finishers in Saturday's Patriot Highlander Challenge follow.
Benjamin Healy, 44:23; Andrew Bischoff, 47:28; Michael Desens, 49:17; Thomas Farnsworth, 58:34; Chantal Little, 58:34; Brian Buchanan, 59:28; Kestral Sucsy, 1:01:25; Jillian Smith, 1:01:30; Virginia Desens, 1:05:09.
Tylan Klinker, 1:05:17; Michelle Mara, 1:05:44; Jordan Hitchcock, 1:06:24; Alex Sebring, 1:07:06; Jessica Lawton, 1:07:06; Terry Hanes, 1:09:34; Mark Sabato, 1:13:45; Keith Rhodes, 1:14:01; Jon Miner, 1:16:43; Samantha Ayers, 1:20:40.