Eight-hour search lands drive-away thief
| | |
| --- | --- |
| 10/5/2016 | By David Avitabile |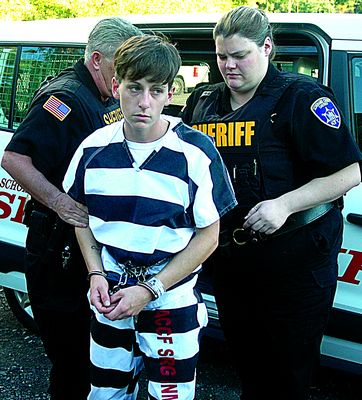 A Middleburgh woman accused of burglarizing two convenience stores in Richmondville and later a stealing State Police car was apprehended after an eight-hour search Sunday evening.
After incidents stretching five days, police charged Tierra L. Scott, 27, with third-degree grand larceny, first-degree reckless endangerment, second-degree assault, and escape from custody.
Ms. Scott's odyssey began sometime Tuesday night into Wednesday morning when she allegedly broke into Reinheardt's Mini Mart on Main Street in Richmondville and stole an undetermined amount of money and Lottery tickets, according to police.
Sheriff Tony Desmond said that an alarm company contacted county dispatchers at 4:59am that there was an activation at Reinhardt's.
Deputies responded to the scene and found that there had been a forced entry into the store through an ice cream service window.
Money was taken from a register and from under the counter.
Then, Ms. Scott broke into Taylor's Mini Mart in Warnerville at about 4am Sunday and took money and "stacks of Lottery tickets," according to Sheriff Desmond.
Using information developed by deputies, some involving the Lottery tickets that were stolen, Ms. Scott was identified and was picked up in Middleburgh on Gorge Road.
The Sheriff's office is short of people and the State Police were assisting the Sheriff's Office with the transport of Ms. Scott.
The trooper transporting her pulled into the parking lot of the Sheriff's Office in Schoharie and exited the car to open the passenger door and retrieve Ms. Scott.
But Ms. Scott apparently slipped out of her handcuffs and when the trooper left the car, she climbed into the driver's seat and locked the doors, according to police.
"She's a small person," Sheriff Desmond said, explaining how Ms. Scott could slip the cuffs. "People have done that lot. They're not made for little people like that."
Ms. Scott was described as being five foot seven inches tall and about 105 pounds.
As the trooper was trying to regain entry into the car, Ms. Scott drove off, dragging the trooper a short distance.
As Ms. Scott was allegedly driving away and dragging the Trooper, a Sheriff's deputy fired two shots. The shots did not strike Ms. Scott or the car, according to Sheriff Desmond.
"It's a good possibility she missed."
Ms. Scott ditched the car on Wetsel Hollow Road in the Town of Schoharie, about four miles away. After the car was discovered, police closed the road at about 3pm.
Ms. Scott then apparently went into the woods on the east side of Wetsel Hollow Road, according to Sheriff Desmond.
The State Police responded with a helicopter that landed on the soccer field of Schoharie Central School, and tracking dogs. A couple dozen police officers searched for Ms. Scott throughout the afternoon and evening.
During the evening, she was spotted in Grovernors Corners, Sheriff Desmond added, and was later apprehended after another search.
She was arraigned by the State Police in the Town of Schoharie Court and sent to jail lieu of $25,000 bail, according to the Sheriff's Office.
She returned to Schoharie town court on Monday afternoon.
Ms. Scott pled not guilty. Bail was continued at $25,000 and she is due back in court again on October 17.
Besides the earlier charges, more counts are expected to be lodged.
Sheriff Desmond noted the cooperation of the Schoharie and Central Bridge fire departments in traffic control.
The Sheriff, deputies and troopers warned people who lived near Wetsel Hollow Road and Route 7, and the county Emergency Management Office conducted reverse 911 calls notifying people of the situation within a two-mile radius of where the car was abandoned.