Hyndsville, Dorloo churches celebrate a year as Christian Community Church of Faith
| | |
| --- | --- |
| 10/5/2016 | By Patsy Nicosia |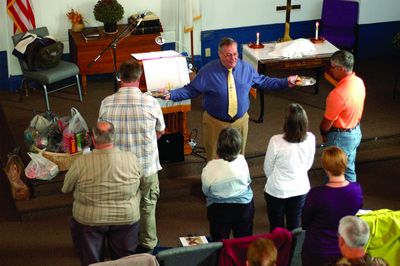 A year after tearful goodbyes to their respective churches, the congregations of the Hyndsville and Dorloo United Methodist Churches have united as the Christian Community Church of Faith.
And they're stronger than they've ever been.
"It was a blessing really," said CCC of Faith's Kim Witkowski before Sunday's 8:30am services in the West Richmondville church they're already halfway to buying.
"All of the small churches, we're working together now in ways we never thought to before."
A case in point is CCC of Faith's home, a church built in 1976 as the West Richmondville Methodist Church, but most recently, home to the Calvary Assembly of God.
After Calvary Assembly moved into its own new building on Mineral Springs Road in Cobleskill, it offered the West Richmondville building to CCC of Faith and then about six months ago, it offered to sell the church to the new independent, nondenominational congregation, said Pastor David Houck.
CCC of Faith took its time weighing its options-even considering an offer from the Upper Methodist Conference to sell them back one of their own churches-Pastor Houck said.
"There were a lot of things to consider," he said. "We didn't want to do anything to hurt the community."
In the end, in a June 26 vote, they voted to accept Calvary's offer and just three months later, they've raised $30,000 toward the building's purchase price.
They hope to boost those fundraising efforts with a chicken and biscuit dinner at the Lawyersville Reformed Church, 4-6:30pm on Saturday, October 22-another example of small churches working to help each other.
Though the dinner's being billed as the first annual-and technically it is-both churches have a history of fundraising community dinners, but they were put on hold by last year's closings.
"And they're even going to let us borrow our own dishes," said Gloria Hellijas of Hyndsville, one of the women who'll be doing the cooking. "Halleluiah!"
About 35 people regularly attend the services in West Richmondville; all told, the new congregation has a membership of about 50.
For a few weeks last fall, Pastor Houck said, they met in people's homes and even their garages, where by December, they were worshipping in hats and gloves.
"Then, Christmas, we were here," he said. And that's set the tone for everything that's come yet.
"It's still sad sometimes, what we've lost, but we're stronger and better for it," said Sue Davis of Dorloo.
In addition to fundraising for the West Richmondville church's purchase, the congregation has purchased new chairs for the building, helped in part with a FAM grant, and launched a new website and a newsletter with Ms. Witkowski as editor.
The first Sunday of every month, the congregation collects for local food pantries, and they're already making plans for the second floor choir loft, and small kitchen and fellowship room.
At Sunday's service. Pastor Houck reflected briefly on the past year's struggle, but most of the focus is on the journey ahead.
"We all came through this stronger," he said. "A church isn't a building, but it's people. And we've certainly proven that."