Project CRASH drives the message home
| | |
| --- | --- |
| 10/12/2016 | By Patsy Nicosia |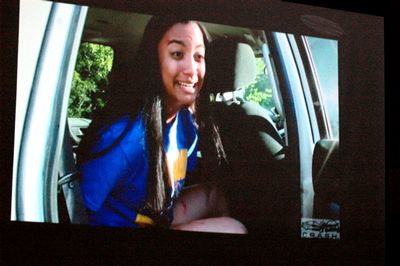 When a carload of local teens headed out that June day, red Solo cups and phones in hand and behind the wheel, they never thought it would end in tragedy.
But it did:
With 17-year-old Sharon Springs Central School senior Ian Rohac dead at the scene of the County Route 8A crash, and Amarnie Lawas, another senior, but from Cobleskill-Richmondville, charged with vehicular manslaughter and facing 7-14 years in state prison.
It was, however, all make-believe, written, staged and filmed for Project CRASH, a joint effort between the Schoharie County Sheriff's Office and SCCASA.
"But what you saw? It's pretty much how it would all go down," said Deputy Zach Reinhart, one of those with a hand in the effort, said afterwards.
"We were going for a gut punch."
And they got it.
Mostly juniors and seniors from all of Schoharie County's schools viewed the film in two sessions Thursday at SUNY Cobleskill, where they also heard from Assemblyman Pete Lopez and DWI attorney Tom Desalvo.
It was the film though, that had the biggest impact; the SUNY Ballroom was silent for almost a minute after it was over before the crowd broke into applause.
"That's what we were looking for," Deputy Reinhart said, and the reason all six schools were represented by the student actors.
"This is a tough age to reach. We figured it would mean more if these were kids we all knew."
Local police, fire, and EMS volunteers were also "actors" in the film, which was produced by SCHOPEG.
Kathleen Brandt, a Cobleskill EMT and first-year forensics student at the University of Nebraska, who had a hand in writing, producing, and even acting in the film, flew home to watch students' reaction.
Like Deputy Reinhart, she's convinced the message got across.
"These kids are almost my age," she said. "They don't want to be lectured to. We tried to make it something that would impact them and based on their reaction, it worked."
The film opens with scored scenes of a carload of friends talking, drinking, and texting on their phones and ends with Amarnie being sentenced by an unsympathetic Jefferson Justice Lynn Hait, another of the actors.
In between, are a two-car crash, calls to police EMS, and coroner Matt Coltrain; a sobriety test for Amarnie, a helicopter ride for Heidi Greiner, an "injured" Jefferson Central School student, a vigil at the scene, and shots of Ian's grave.
"Heidi kept telling me that the helicopter ride was so scary, she never wanted to have to do it in real life," Ms. Brandt said. "I think all of the kids felt that way."
Interspersed with the shots is a close-up of Deputy Reinhart's feet, walking up the steps of Ian's home to give the news to his parents, played by Dennis and Posie Shaw of Richmondville.
Brenda Stetin, Ian's guidance counselor at SSCS, was one of those in the crowd-Ian's parents were there, too-and she said it was wrenching to see him "dead," even though she knew he was just acting.
"It was really, really well done," she said. "We'd like to get copies of the film so we can show it to all of our students. I had tears running down my face..."
Though the film focused largely on drinking and driving, Assemblyman Lopez and Mr. Desalvo talked more about distracted driving-driving while texting, eating, even looking for a CD.
Surprisingly, Mr. Desalvo said, those are things more likely to be done by parents than teens; he's guilty of them, too, but stopped after his son said he was afraid to drive with him.
"Talk to your parents. And your friends," he said. "They'll listen."
In addition to Ian, Amarnie, and Heidi, other student actors were: Luke Diamond and Emily Newsome, Middleburgh; Maeve Uhaldem Gilboa-Conesville, and Jackson Vanderwerken, Schoharie.