Vinnie Zaba follows his dream to Brick House Bakery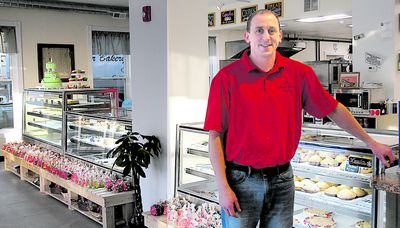 Vinnie Zaba suspected all along that Cobleskill wanted a bakery.
He was right.
Since opening on November 22, the Brick House Bakery has had a non-stop response from customers looking to soothe a sweet tooth.
Across West Main Street from Cobleskill's Centre Park, Brick House offers a variety of pies, cheesecake, pastries, cookies and more, exactly as Mr. Zaba planned earlier this year.
"This is everything I envisioned," Mr. Zaba said. "Support from the community has been outrageous.
"I can't explain how excited I am. I can't come up with the words."
The bakery is in the former Coby Motors building, which was dilapidated when Mr. Zaba bought it. He and contractors gutted the downstairs, put in a new support beam and 14 other beams and raised the ceiling nine inches.
The finished look has a long glass cabinet for baked goods, tables and chairs for customers, displays of other products and coffee, cappuccino and espresso machines.
One of Brick House's attractive features is that it's open. Customers can watch bakers prepare the treats.
"This is something different Cobleskill has never had," Mr. Zaba said. "We have the New York City look, but the downtown Cobleskill atmosphere and hominess of just having a cup of coffee."
The business is a family affair. Mr. Zaba and his sister-in-law, Kathy Zaba, own the business. Ms. Zaba comes to work there "after her real job," Mr. Zaba said.
His mother, Ernestine Zaba, also lends a key hand. She taught her son much of his baking skills, and now Ms. Zaba is helping again, this time in the bakery.
"Mom works every night," Mr. Zaba said. "She bakes her cookies and does what she can do to help. Like in an Italian bakery, she walks around, helping out where she can."
His mother, for instance, made hundreds of pie crusts, rolled out by hand, for the Thanksgiving rush.
But if the Brick House Bakery is a family business, the community also plays a role, besides providing customers.
Contractors, friends and others offered advice and volunteer work as the building was transformed from a shell into a bakery.
And community help has continued. Mr. Zaba said many of his recipes are his or his mom's, but more than a few come from the community.
"People bring them in," Mr. Zaba said. "Someone will say, 'This was my grandma's recipe.' You can have it.' And they're good."
So far, Mr. Zaba's top three sellers are turnovers and muffins--hundreds every day--and cheesecake. The bakery also has pies, cookies, local honey, French and Italian bread, rolls and candy.
Brick House also sells bagged coffee blended for the bakery by a small firm in Albany.
Although the bakery has been open just two weeks, Mr. Zaba has plans. He wants to get into specialty breads--crusty, rye and pumpernickel--and specialty pastries, such as neapolitans, napoleons and cannolis.
Also in the works are a larger line of candies, cake decorating supplies and cake decorating classes.
Finally, he's test marketing breakfast sandwiches--sausage, bacon, egg and cheese--to see what customers like most.
Mr. Zaba has nine employees, but he's planning to add more to accommodate the strong demand.
"This has been amazing," Mr. Zaba said. "I'm so excited to make people and to see people sitting here, eating pastries."
Brick House Bakery is open from 6am to 7pm every day, including weekends.