Cops, FDs help deliver Disney surprise to Gallupville boy
| | |
| --- | --- |
| 12/14/2016 | By Patsy Nicosia |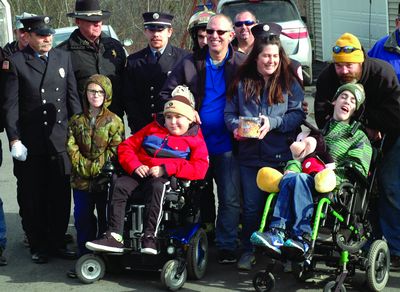 What goes around, comes around.
Which is a good thing when you're talking homemade chocolate cookies, fire trucks, and an all-expense paid trip to Disney World.
That's the surprise 19-year-old Ryan Hacker of Gallupville got Thursday thanks to the downstate-based Baking Memories 4 Kids.
Baking Memories 4 Kids, explained founder Frank Squeo, bakes and sells containers of homemade chocolate chip cookies as a way to send kids with life-threatening and terminal illnesses to Disney World and other Florida attractions.
Typically, Mr. Squeo explained, it takes months to put together a trip for someone like Ryan, who his cerebral palsy, and his parents, Eric Hacker and Tina Bleau.
Ryan's trip, however, came together almost overnight after Mr. Squeo met the family at the wedding of Amy Canniff-Bleau and Jim Bleau.
Ms. Canniff-Bleau's husband, David Canniff, a State Trooper, was killed in a December 17, 2013 accident on the Northway.
One of their two sons, Caleb, has spinal muscular atrophy, and is in a wheelchair.
After Caleb received a Baking Memories 4 Kids trip to Disney, the family became supporters of the project; Ms. Canniff-Bleau and Mr. Bleau gave out containers of the cookies at their own wedding and asked that all wedding gifts be donations toward Mr. Squeo's efforts.
"We've gotten to be good friends," Mr. Squeo explained, "but when I walked into the wedding and saw my cookies, I was shocked."
Because the Bleaus had "gone around" Mr. Squeo and gotten them from someone else, afraid he wouldn't charge them for the favors..
It was at the Bleau's wedding that Mr. Squeo met Ryan and his family, and that's when he stepped up efforts to get them to Disney before Ryan aged out of the program.
Ryan's a fan of police and fire vehicles, so Mr. Squeo reached out to the Schoharie County Sheriff's Office, which in turn, contacted the Schoharie Fire Department and other rescue volunteers, who all caravanned to the family's Abrams Road, Gallupville home with the surprise.
"Life is tough for these kids," Mr. Squeo explained. "These trips let them be kids."
Ryan's March trip will include stays at Disney World, Universal Studios, Sea World, and Lego Land.
"We've never been-Ryan's never even been on a plane--so this is huge," said his dad, Eric Hacker.
Ryan, he said, will probably enjoy a chance to swim in the facilities' pools most of all.
"We have a special life jacket for him...it lets him be independent," he said. "That's his thing: Swimming."
Ms. Cannliff-Bleau said her family's trip to Florida came at a time when she needed it most, and she's thrilled to be part of sharing it with Ryan and his family.
"I've tried to teach my boys that there are more than enough blessing to go around," she said.
For more information on Baking Memories 4 Kids, go to BakingMemories4Kids.org.