Sharon kids share in the real meaning of Christmas
| | |
| --- | --- |
| 12/27/2016 | By Patsy Nicosia |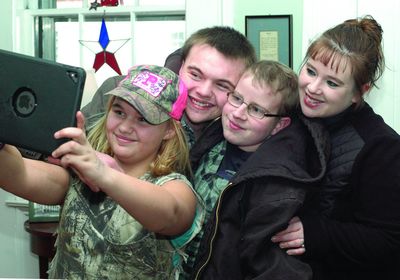 Christmas is a time for giving and in Sharon Springs, two high schoolers take that message to heart.
For the second year, in an effort they call the Magic of Sharon Springs, Lester Higgins Jr. and his sister, Deserae, put coin jars out during the community's Garden Party, Harvest Festival, and Victorian Stroll as a way to collect for a family in need.
The first year, the collection went to neighbors who'd lost their home in a fire.
Friday, they presented the $165 they'd collected in 2016 to Molly Roosevelt and her son, Lucas, to help with some of the family's medical bills.
The families are good friends; Ms. Roosevelt thought they were all meeting up at the American Hotel for a pre-Christmas lunch.
"Oh my, you guys..." she said, wiping away tears. "This is so nice...This is what Christmas is all about."
Lester, 18, is a senior at SSCS who runs a magic show business on the side, something he hopes to keep going after he graduates and joins his father's home repair business.
Deserae, 12, is a seventh-grader.
Both said they enjoy the feeling of giving back to someone in their community and both said it's something that's been encouraged by their parents, Marcia and Lester Sr.