It's Cherie: Our 25th Times-Journal Star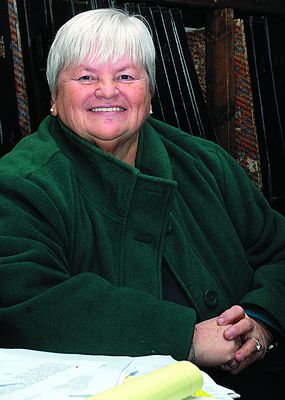 Being seriously involved in two volunteer efforts would gratify almost all of us.
Not Cherie Stevens.
She's engaged in a range of causes, all of them giving a lift to those who need one, and that's why Ms. Stevens is the Times-Journal Star for 2016.
"A lot of us connect Cherie with one project," said T-J Editor Patsy Nicosia, who directs the paper's Star award. "Maybe it's the Marathon for a Better Life or the Theater Project of Schoharie County. But Cherie does much more than just one or two."
Indeed. Besides the Marathon, which raises money for Schoharie County cancer patients, and the Theater Project, which performs several plays each year, Ms. Stevens is hardly idle.
•She's been president of the Schoharie County Council of Senior Citizens for several years. The Council has 50 employees, and Ms. Stevens oversees every bill, and is in on job interviews and employee evaluations.
"It's like being the CEO of a company, but I'm not paid for it," Ms. Stevens laughed.
•She started the musical group the Hot Pots, a kitchen band that played pots and pans, more than 16 years ago. After realizing members could actually sing, they ditched the pots and pans. The band plays 30 dates a year at nursing homes, hospitals and rehab centers.
At one nursing home, "a woman got out of a wheelchair for the first time in two years to dance, and a man who hadn't spoken in two years sang the words with us," Ms. Stevens said. "It was an Alzheimer's ward."
•Every Monday, Ms. Stevens directs a choir at Schoharie County ARC, and she also directs ARC's Red Rose Show every year.
"If you want to start your week off right, this is the way to do it," Ms. Stevens said of the Monday choir. "Music is the universal language."
The Marathon for a Better Life may be Ms. Steven's centerpiece. Now in it's 20th year, the Marathon involves hundreds of people who raise thousands for local cancer patients each June.
The only requirements are that a person has cancer and lives in the county. He or she can use the Marathon donation--often, $1,000--for any purpose, no strings attached.
The fundraiser became a mammoth venture and still is.
"It's taken on a life of its own," Ms. Stevens said. "There's a lot to it. Good thing I'm retired, because we're determined not to have a paid staff so money goes to patients and their families."
The Theater Project of Schoharie County is another love. The all-volunteer group puts on about four performances a year; "The Music Man," a major effort, is coming in 2017.
"I directed one, acted in one and produced two this year," Ms. Stevens said.
And her involvement is hardly recent. She was a hospital candy striper in high school, and when Ms. Stevens arrived in Cobleskill in the '70s, she joined the hospital auxiliary and was active in the Schoharie County Arts Council.
So why does she do all this--fundraising, music, the Senior Council and more?
"I don't have kids, so I have the time," Ms. Stevens said.
Maybe more importantly, she added: "And I have the attitude to pay it forward."
That attitude comes from her mother (See related story.) and from the late Nick Iorio, a longtime administrator at SUNY Cobleskill.
Born and raised in Sidney, Ms. Stevens, 64, earned a journalism degree from Syracuse and was getting a teaching degree from Oneonta State when she was recommended to Mr. Iorio for a dorm director's slot in Cobleskill.
Ms. Stevens landed the job, later becoming Director of Student Activities for 20 years and then, Campus and Community Director.
"I didn't have a father figure," Ms. Steven said. "Nick took me under his wing, like a father to me.
"Coming here was fate at its best."