Standing room only at political change meeting
| | |
| --- | --- |
| 2/7/2017 | By Patsy Nicosia |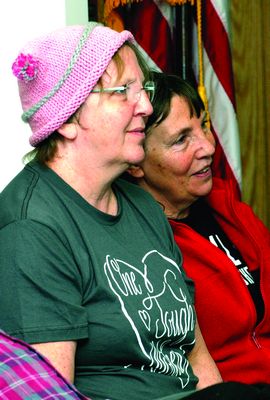 No one at the Middleburgh Library Sunday minded that there was a Super Bowl going on.
Or that there weren't enough chairs to go around.
They were there to effect positive change-through their legislators and with their neighbors-at the first on-the-ground meeting of the Women's March NY-Mohawk and Schoharie Valley Region.
More than 70 people from Schoharie County and beyond turned out to share their concerns over actions taken by the Trump Administration since the President's January 20th inauguration.
The crowd pleased and surprised organizers, including Jerrine Corollo and Theresa Heary, who had to hunt down more chairs before getting down to business.
Ms. Heary told the crowd that it's important that everyone feels welcome.
She also said that while their concerns are serious, it's also important that they tap into things like music and art to make their activism fun-or risk feeling overwhelmed.
"The fact that you're all here Super Bowl Sunday, when Sundays are also family time...that's powerful," added Ms. Corallo.
One resource many groups like the one meeting in Middleburgh are using is the Indivisible Guide, put together by former Congressional staffers who explain the strategies the Tea Party has used effectively.
But one of the things the local group is going to need to decide, Ms. Corallo said, is whether they're going to work against the President's policies-or in favor of the issues they want to support.
"We do need to get rid of Trump," said Catherine Adams of Central Bridge, speaking from the crowd. "I want to be able to sleep again. But we also need to promote the things we're in favor of, too."
Ms. Corallo agreed, stressing it's important to her to be able to discuss issues calmly with her neighbors who might disagree, and she asked everyone in the room to take that step as well.
"We have to be able to listen first," she said.
An informal survey of the crowd showed racism and immigration to be the group's top concern, nearly even with women's rights and the environment, which narrowly edged out democracy and corruption.
Katherine Hawkins, a longtime activist from Fulton, pointed out all of those concerns are all connected and are really class issues.
The best way to recruit people who voted for President Trump, but are now second-guessing themselves, she said, is to point that out.
Ms. Heary said she feels encouraged by the fact that racism topped the list "in our little town."
Building on the suggestions of the Indivisible Guide, likely strategies for change include reaching out to legislators through: Mass phone calls, office visits, town hall, and public events.
A number of groups in the 19th Congressional District have been pushing-unsuccessfully--for a meeting with Congressman John Faso, Ms. Corallo said, and some plan to force the issue at a fundraising event he has planned in Albany.
Time ran out Sunday before the group could decide on its next meeting; email Ms. Corallo at jercorallo@gmail.com to join the group, for more information, for a script for calls to legislators, or to sign up to work on a specific cause.
Rose Surman of Cobleskill was one of those inspired to attend Sunday's meeting after joining the women's March on DC the day after the inauguration.
"I've been doing everything I can," she said. "Boycotting, calling. I've been so depressed and sometimes I think 'I'm only one person, but I keep doing these things for myself. To stay sane."