SCS's Dillon Warner #5 at states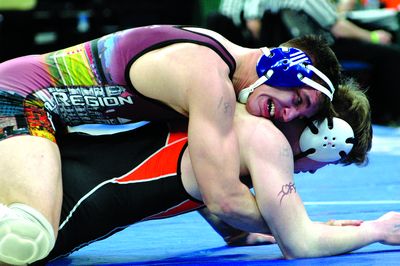 Schoharie wrestler Dillion Warner became the Indians' first-ever state place finisher in the New York State Wrestling Championships, held Friday and Saturday at the Times-Union Center in Albany.
"This was a great accomplishment for Dillion," said Coach David Russell. "He works hard and wrestled well. It was good to see that pay off."
Warner (182) is a senior.
He lost his opening match, 1-0, to Corey Keefe of Buffalo.
"The match was tight the whole way," Coach Russell said. "Either guy could have come away with the win."
Warner advanced in the first consolation round after his opponent from New Paltz was unable to continue due to an injury in the opening period.
Still on Friday, Warner faced John Ridder from Nassau County, winning 12-4, with a nice cradle and earning a spot in Saturday's competition.
Warner opened the tournament on Saturday facing Brennan Slater from Norwich, winning, 2-1, and advancing into the placing rounds of the tournament.
There, he faced Will Thompson of Rochester and was pinned in the first period.
"They had a scramble going and unfortunately, Dillon ended up on his back," Coach Russell said.
In his final match, Warner again faced Keefe in a rematch of his opening round.
"Dillon had a nice takedown in the first period that put him up by five points," Coach Russell said.
Warner went on to win, 8-5, placing fifth in Division II.
"This was Schoharie's first place finisher in the championships," Coach Russell said. "It's a great accomplishment for our program."