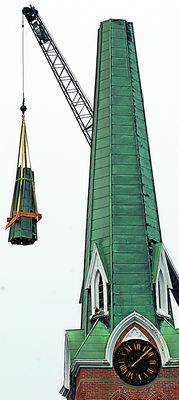 The top of Zion Lutheran Church's steeple came off for safety's sake on Monday.
Unstable since being struck by lightning two weeks ago, the steeple had started to list to one side, and the congregation couldn't use the church.
Dimensions North of Catskill removed the top portion using a crane and a lift. At right, the one section comes off Monday afternoon.
Below, a crew and a container go up 165 feet to take off loose portions at the very top. Next, brothers Josh and Same Neubauer of Dimensions North saw through part of the steeple.
At the bottom, the ground crew watches action at the top while a section of the steeple reaches the ground.