CV artists ready for Climate Change March; Schoharie Blue Streak's Earth Day Saturday
| | |
| --- | --- |
| 4/19/2017 | By Patsy Nicosia |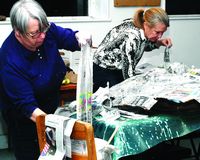 The future began taking shape in Cherry Valley Thursday when a dozen would-be artists came together to craft oversized puppets and banners for the community's Climate Change March April 29.
Like Cobleskill's Women's March in January, the Positive Action: Cherry Valley event will be a "sister march" to the national Climate Change March in Washington, DC as will hundreds of other registered marches across the country.
This Saturday, Schoharie Blue Streak has plans for an Earth Day rally on the Schoharie DAR's front lawn beginning at 1pm. (See related story.)
Both events are intended to draw attention to the importance of protecting the earth along with other related issues, including the health and safety of local communities and families.
And though Cherry Valley's march on the 29th—more of a "mingle or a walk" than a march, organizers said—coincides with the 100th day of the Trump presidency, it's focus will be apolitical.
"I think everyone's aware of some of President Trump's policy changes and the impact they'll have on the environment," said Cindy Campbell, one of the march organizers.
"But really, our focus is on climate change and what it means. We're hoping to create more of an awareness of just how serious things are."
But Thursday, things weren't quite that serious.
Some of the volunteers turned to Dr. Suess's "Lorax," for inspiration, while others searched the internet for images of the earth they could transfer to a large blue ball that the main attraction, a human-sized puppet named Gaia, will carry.
"List the continents for me again," said one volunteer. "I think they've changed since I was in high school."
Angelica Palmer provided the vision for Gaia, who will be built using a backpack as a base; Gaia's hands will cradle the earth with a crew of volunteers lending support.
Ms. Palmer crafted Gaia's hands from cardboard as other volunteers created her face using paper mache.
Elsewhere in the Old School, Ms. Campbell and Elliott Adams used a projector to create banners.
It took a while for the volunteers to organize their thoughts and efforts, but the longer they worked, the quieter the scene became and eventually, they ran out of time.
The puppet- and banner-making will continue at 6pm Thursday, April 20, at the Cherry Valley Old School.
The school will also be the starting and finishing point for the march on April 29, 11am-1pm.

EARTH DAY SATURDAY IN SCHOHARIE

Schoharie Blue Streak, a citizens' group affiliated with the Indivisible Project, will celebrate Earth Day this Saturday, April 22, from 1-3pm on the lawn of Lasell Hall, Main Street, Schoharie.
The event will include speakers, as well as voter registration and a postcard campaign calling on Congressman John Faso to protect the Environmental Protection Agency.
All are welcome.
Indivisible has formed 5,800 local-level chapters since the 2016 Presidential election with at least two in every Congressional district and is dedicated to acting locally to create positive change.
Saturday's speakers in Schoharie will include:
• Richard Ball, New York State commissioner of Agriculture and Markets.
•Three of the candidates for Congressman Faso's 2018 19th District seat—Brian Flynn, Steven Brisee, and Antonio Delgado.
•Carmen Greenwood, an environmental science professor.
The Schoharie Blue Streak Earth Day celebration is part of the worldwide March for Science, set for that same day.