Micro-grant helps launch Charlotteville cider label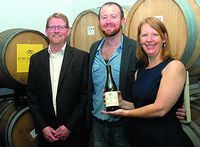 A new cider business is up and running thanks to a Schoharie County grant program.
Scrumpy Ewe Cider in Charlotteville will be releasing its products––tasting more like white wine than apple cider––this Friday.
Ryan McGiver of West Fulton owns Scrumpy Ewe, and a boost in funding came from the Schoharie County Micreoenterprise Grant Program (SCMGP).
Funded through a state grant, SCMGP is administered by the county Industrial Development Agency with help from the county Office of Community Development.
Scrumpy Ewe is housed at Kymar Farm and Wineries, which has become a popular stop on the county's beverage tour.
"We are pleased to assist Ryan in his start-up endeavor and wish him success," said Shane Nickle of the Office of Community Development.
"We hope people all around the region will support this new business that adds to the regional beverage tour."
Mr. McGiver became interested in cider when he was in Europe. Returning to the States, he began studying the process at Cornell University and still calls Eric Shatt of Cornell his chief mentor.
Four years ago, Mr. McGiver planted an apple orchard in Seward. He now gets his apples from there and also from orchards in Schoharie, Worcester and Sharon.
"That's important to me," he said. "They're all local."
Mr. McGiver manages some of those orchards, and he uses Northern Spy, Newtown Pippin, Gold Rush, Old Winesap, Ida Red and Spartan, among others, for his cider.
He's the owner and only employee at Scrumpy Ewe, so he presses the apples, places the product in American or French white oak barrels, and then in steel barrels for the fermentation process.
Then, Mr. McGiver bottles and boxes the cider.
Right now, he has three ciders: Newtown Spy, Farmhouse Dry and Northern Spy. He'll release additional ciders later this year.
"They're more a high-end thing. That's what I want to do," Mr. McGiver said.
His business is exactly what SCMGP seeks to fund––small businesses with five or fewer employees. This year, Mr. Nickle said, the county received more applications than funding available, and the county is applying for a new program for 2018-19.
Businesses requested between $5,000 and $35,000, and businesses must contribute a minimum of a 10-percent cash match.
Mr. McGiver will celebrate Scrumpy Ewe with a joint concert with Kymar. Featuring the international recording group Visten from Prince Edward Island, the concert will be at Kymar August 5.
The concert will be the first in a series, "The Copperstills Sessions."
"It's a way of blending great music and excellent cider and spirits," Mr. McGiver said.

• • •
According to Scrumpy Ewe's website, 'scrumpy' is a term for cider in Europe, and 'ewe' refers to the horned female sheep that graze in Mr. McGiver's orchards.