1946 Ringling Bros. scene gets new home at Fairgrounds
| | |
| --- | --- |
| 7/26/2016 | By Patsy Nicosia |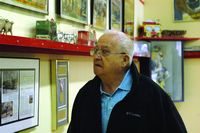 Fans of the Big Top will have a one-of-a-kind treat waiting for them just inside the gate when the 141st Sunshine Fair opens Saturday: 
  A detailed, one-quarter-inch scale replica of the 1946 Ringling Brothers Barnum & Bailey Circus so grand it fills an entire room as the centerpiece of the Fair's new Circus Museum.
  The exhibit is the creation of Hall of Fame Model Circus builder Brooke Evans and until late last year, it was housed at the Big E in West Springfield, Massachusetts, where it had been for the past 20 years.
"It was quite a project to bring it to Cobleskill, but we're thrilled to have been able to do it," said Doug Cater, Fair president. "I don't think there's anyone out there who won't be thrilled and charmed by it."
  Mr. Evans has been at the Fair before and though he still had his vision when he began the 20-year project in 1972, he's legally blind now and depends on his wife, Maggie, for a second set of eyes when he shows off the exhibit's highlights to visitors.
  "Maggie, come here," he called Monday during the miniature circus' unveiling, pointing to one of more than a dozen vignettes.
"There's a girl there, washing her hair in a bucket. Is the bucket there?"
  "I don't think so," Ms. Evans answered.
  "Well, I'll have to fix that," was her husband's response. 
  How? By climbing up on the table.
  "It's very sturdy," Mr. Evans explained. "It has to be to hold all of this. Bill [Coombs, the Fair's grounds manager] did a wonderful job helping us move and set things up. He's been wonderful to work with."
  The replica recreates what was until 1956, the familiar sight of a circus set up on the edge of a town, complete with tiny figurines of camels, elephants, tigers, horses and more.
Trapeze artists "practice" before taking the stage, clowns apply their makeup, and 10,000 hand-painted visitors sit under the Big Top waiting for the show to begin as working trains load and unload nearby.
  The museum walls are lined with circus posters—some from the Big E, others from Mr. Cater's own collection and one of the first things he rescued when Hurricane Irene's waters threatened his Schoharie home—along with larger-scale replicas of circus trains and other collectibles.
  The entire display sits on a yellow and white floor painted to resemble a Big Top—Mr. Coombs' idea.
  "It's really something for every age," Mr. Evans said. "Kids love it and older folks remember circuses like this from when they were kids."
  That's where Mr. Evans' circus connection began too; he jokes he saw his first circus when he was just six months old.
  His father was a professional singer trained at the Boston Conservatory during the Depression, "when no one wanted singers."
Instead he worked at a radio station, where during Ringling's 1938 strike, he became friends with a co-worker, an out-of-work ringmaster.
  When the strike ended suddenly, the senior Evans filled in as a ringmaster for six weeks and became the first man to broadcast the circus on radio, his son said.
  "So I was doomed," Mr. Evans said with a laugh.
  Mr. Evans ran his own successful carnival for years, earning enough to let him retire and create his own circus, Ms. Evans said, just on a smaller scale.
  His exhibit is a tribute not only to circuses of the past, but to circus professionals, New York State residents, and good friends Billy and Angela Martin. 
  The exhibit will have a permanent home at the Fair, Mr. Cater said.
  It will be open daily at this year's July 29-August 5 Fair.