Battle of Flockey Saturday, Sunday at Stone Fort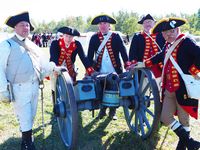 Be there, this weekend, August 12 and 13, as history comes alive at the Old Stone Fort Museum Complex during an educational Revolutionary War encampment commemorating the 240th Anniversary of the 1777 Tory Uprising and Battle of the Flockey.
This free, family-friendly program will provide visitors with an opportunity to get up close and personal with history, as they walk through a re-created of a Revolutionary wartime encampment, witness live demonstrations and military exercises, meet the horses and interact with re-enactors and historians.
Four re-enactment units will be on site for this special anniversary encampment, including members of the 2nd Continental Light Dragoons, Queen's Rangers, Crane's Battery of Artillery and Knowlton's Rangers.
The weekend long encampment is being held on the exact 240th anniversary of the Battle of the Flockey, which took place in the present town of Fulton on August 13, 1777.
An important milestone in American history, the battle marks the first time that US cavalry charged on American soil, as a troop of the 2nd Continental Light Dragoons (Sheldon's Horse) charged on ambushing Loyalist Americans and Mohawks.
The cavalry charge, supported by rangers and militia under Colonels John Harper and Peter Vrooman, resulted in an important American victory as the Loyalists, also known as Tories, were scattered into the rainy, wooded hillside and forced to abandon their Schoharie Valley homes.
Visitors are invited to visit the encampment free of charge on Saturday from 10am-5pm, and Sunday, noon to 5pm.
At 1pm each day ,there will be a traditional "Libations Ceremony" honoring military veterans, who are invited to participate.
There is no battle at this event, but the cavalry charge will be re-enacted during Stone Fort Days, October 7- 8.