Community rallies behind brave little Ava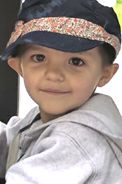 Ava Byrne is putting up a brave battle, and the Schoharie County area is rallying to help.
Three-year-old Ava has stage four neuroblastoma, a bone cancer in her head, but the little girl from Berne remains upbeat, as does her family.
The daughter of Leanne Baker and Justin Byrne, Ava was first diagnosed with cancer in late May, 2016. She weathered that bout but recently suffered a relapse.
"It's rare and very aggressive," said her grandfather, Sean Byrne of Schoharie, who works in health insurance, and, having survived leukemia himself, is familiar with the process.
"A relapse is not unusual, and you have to get on it," he added. "But a relapse is very hard to take."
Ava and her parents will be traveling to Memorial Sloan Kettering Cancer Center in New York City for advanced treatment, and to that end, several local fundraisers will help with expenses. (See related story.)
Having been at Albany Medical Center, Ava will be starting a new treatment, shrinking tumors via chemotherapy. She will have a three-week recovery period, and during that period, doctors will be measuring frozen tumors from an earlier biopsy, according to Ms. Baker.
At Sloan Kettering, Ms. Baker said, Ava will undergo radiation and antibody therapy, and doctors may use her own stem cells or those of her parents.
"It may be six months or three years," Ms. Baker said. "There's zero timeline."
Using his experience, Mr. Byrne helped get Ava into Sloan Kettering.
"You have to get approval," he said. "It's not like making a phone call for an appointment."
These times are more than stressful for the family. Ava's sister, Addalyn Byrne, is staying with Mr. Bryne and his wife Debby in Schoharie while Ava and her parents are in the City.
Sleep is a rarity for Ava's parents, and planning even simple tasks is a trial.
"It's a different lifestyle," Ms. Baker said. "Normal things are very complicated. Even going to the store or to the post office for stamps has to be planned out."
Ms. Baker and Justin Byrne quit their jobs to be with Ava. They'll use money from fundraisers for travel, staying in the City and for Addalyn's time with her grandparents.
But if life on the run is complex, Ava's parents know there's plenty of support. Ms. Baker praised doctors at both Albany Med and Sloan Kettering and noted the well-wishers at home.
"We're very hopeful, trusting in our doctors," she said. "And it's amazing how we are loved and thought of by so many people. We truly thank them."
Meanwhile, Ava is a trooper. She's lost her hair, but that's the only sign that she has cancer.
"She's doing really good," Ms. Baker said. "She's busy playing. She's a busy, busy three-year-old."
Her grandfather agreed.
"I play the ukulele, and we gave her a plastic one," Mr. Byrne said, smiling. "When I brought mine in, she tossed her plastic one aside and wanted to use mine."
And there's more.
"The Mickey Mouse channel has to be on 24/7," Mr. Byrne added. "Sometimes we see the same cartoons six or seven times, but that's okay."
Music and art are key elements in Ava's therapy, Mr. Byrne added. Besides using fundraising for travel, the family will buy educational toys to keep Ava interested and lively.
"Part of her treatment is to have her engaged," Ms. Baker said. "We try to do the wholistic approach for her recovery, not just medical. It's emotional as well as physical."
Although Ava's condition is serious, family and friends have high hopes––and apparently Ava does, too.
"She has incredible spirit," Mr. Byrne said. "There's a powerful aura in her spirit, and that will get her through this."

• • •
Because the family is so busy, Ms. Baker asked that no one call. Instead, friends can follow Ava's progress on www.caringbridge.org/visit/avabyrne.


• • •
At least one fundraiser for cancer-stricken Ava Byrne has been held, and others are coming up.
Your Way Café in Schoharie held a pancake breakfast and car Wash last Thursday, raising more than $7,800 for the family's expenses.
So far, two others are scheduled for in September:
•September 10, 2-5pm at Hessian Hill Farm. Red Wagon Band will play, food provided by High on the Hog BBQ and Lucky Clover Bakery. 50/50 raffle and silent auction. $10/person admission. Call Jess at 518-701-4964.
•September 15, 5-8pm, spaghetti dinner at Grapevine Farms. All dinner proceeds go to Ava, and 25 percent of shopping totals also go to her.
There is also an account set up for donations at NBT Bank. Checks should be made payable to either Avery Byrne or Leanne Baker and mailed to NBT Bank, PO Box 688, Schoharie, 12157.