Schoharie County turns out for Ava Byrne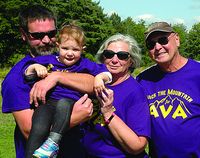 Ava Byrne and her family need help, and Schoharie County is answering.
A benefit Sunday at Hessian Hill Farm raised thousands, and another at Grapevine Farm this Friday should raise additional funds.
Ava, the three-year-old daughter of Leanne Bake and Justin Byrne of Berne, has stage four neuroblastoma and is at Albany Medical Center.
She was first diagnosed with cancer in May 2016, recovered from that but suffered a relapse this year.
Ava was to go to Memorial Sloan Kettering Cancer Center in New York City last month but wasn't strong enough to make the trip, according to her grandfather, Sean Byrne of Schoharie.
Donations have been coming in to the family, and benefits have been a huge plus.
Tim and Tracy Purcell, owners of Grapevine Farm, have known the family for years. They held a benefit when Ava was first diagnosed last year and are doing so again Friday. (See related story.)
"Ava and her family need financial help during this very difficult time," said Ms. Purcell. "As soon as we learned of her relapse, we knew we wanted to help again.
"Ava is a fighter, and we want to do anything we can to help her and her family. She is a sweet little girl."
The Purcells' benefit last year raised $3,625, and they hope to surpass that total Friday.
The benefit at Hessian Hill raised more than $5,000. Like the Purcells, Hessian Hill owners Jim and Lois Goblet have long ties to Ava's family; their daughter went to school with Leanne, Ava's mom.
It was natural, then, that the Goblets wanted to help.
"It's whatever we can do to help this family that is gong through something we don't understand," said Ms. Goblet.
"It's who we are."
Sunday's benefit came together quickly, Ms. Goblet said, with many helping out.
The band The Red Wagon donated their time, and High on the Hog, which provided food, gave their proceeds during the event.
WhaDaYaNeed? in Warnerville made tee shirts for the fundraiser, and nearly 40 businesses donated items for a silent auction.
"We find this all overwhelming," said Debbie Byrne, Ava's grandmother. "What they are doing is great."
Her husband Sean agreed.
"It was beautiful," he said. "A lot of people came out. . .it was just amazing."
Sara Davies-Griffin gave the family a check from another fundraiser, saying, "We want to show Schoharie County's tough."


# # # # #

A spaghetti dinner this Friday at Grapevine Farm in Cobleskill will aid Ava Byrne, a three-year-old suffering from cancer. (See related story.).
The dinner runs from 5pm to 8pm at the restaurant, which is on Route 7 east of Cobleskill.
The menu is spaghetti and meatballs, garlic bread, salad, rolls and dessert. Lemonade and tea will be available.
Tickets are $15, with all proceeds going to Ava's family. There is open seating, and reservations are appreciated but not required.
Grapevine Farm is also accepting donations and items for a raffle on Ava's behalf.
The store is also donating proceeds from sales during the dinner; 25 percent of all sales will go to the family.
Tickets can be purchased on the Grapevine Farm website or Facebook page or by calling 518-234-9148.
Checks for donations should be made payable to either Avery Byrne or Leanne Baker. Donors can bring them to the Grapevine Farm benefit or mail to an account for Ava at NBT Bank, PO Box 688, Schoharie, 12157.