Lopez moving to federal job with EPA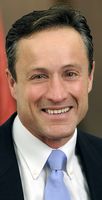 Assemblyman Pete Lopez, who's represented Schoharie County in Albany for 10 years, is moving to the federal level.
Mr. Lopez will be the administrator of the US Environmental Protection Agency's Region 2, which includes New York, New Jersey, Puerto Rico and the Virgin Islands.
His job as assemblyman officially ends October 7, when a process to select his replacement may begin. (See related story.)
Mr. Lopez's work as regional administrator would include such environmental issues as groundwater contamination in Rensselaer County, cleaning up PCBs in the Hudson, brownfields, water and sewer problems, air emissions and more.
One of his first tasks may be hurricane recovery in Puerto Rico and the Virgin Islands. Being of Puerto Rican heritage, the issue is close to Mr. Lopez's heart.
And he has experience in hurricane recovery, having helped here with Irene.
"They're facing what we faced six years ago," said Mr. Lopez, who has family in Puerto Rico. "Recovery there will include water and sewer safety. I think I can be helpful."
Mr. Lopez said he's long been interested in the environment. Right out of college, he served a six-month internship with the Environmental Planning Lobby, headed then––coincidentally––by Judith Enck, his predecessor as Region 2 administrator.
Friends encouraged him to apply for the post early this year, and he was appointed by EPA Administrator Scott Pruitt after a lengthy interview process.
"His familiarity with the region and his experience working to solve environmental problems in New York will be invaluable in helping EPA serve Americans in the Northeast and the Caribbean," Mr. Pruitt said in a statement.
Asked how he fits in the Trump administration, which some see as unfriendly to the environment, Mr. Lopez said he has an opportunity to have business and the environment co-exist cooperatively.
Business and the environment are often pitted against one another, he said, and the government's frequent response "is to tax, fine and regulate
"There are ways to achieve environmental goals while being business-friendly," Mr. Lopez said. "We need to rethink tax, fine and regulate."
Having been raised in Schoharie County, Mr. Lopez is most sensitive to environment.
"We have to govern wisely and prudently," he said. "We have to make sure resources are there for future generations."
He and his wife, Bridget, have had their Schoharie house for sale for some time. They had planned to move closer to Windham in Greene County to be near Ms. Lopez's parents.
Now, because Mr. Lopez will be based in New York City, they may move within commuting distance.
And although he'll be leaving Schoharie County, Mr. Lopez will continue to feel the attachment.
"I'll still be representing Schoharie County and this region, just from a different level," he said.