What kind of people would dump this dog--and drive away?
| | |
| --- | --- |
| 10/3/2017 | By Patsy Nicosia |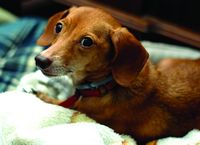 Though she's not quite sure what she thinks about LaLa's the cockatiel's screeching, and she takes a little while to warm up to visitors, Millie the daschund is settling down into her temporary home at the Animal Shelter of the Schoharie Valley.
Millie—that's what ASSV staff is calling her now; no one knows her real name—was dumped from a car last Tuesday along at the Night Terrors Haunted Farm on Oak Hill near the intersection of Routes 7 and 30.
Witnesses called Schoharie County 911 and told dispatchers that about 10:30pm, they saw two white men, one wearing an orange and white shirt, in a white Honda Accord, possibly a 2000, drop off a small dog, then make a "u" turn and head out east on Route 7.
Sheriff's deputies responded though they spotted the dog running along Route 30, they were unable to catch it.
Deputies called for help from Cobleskill and Princetown State Police and from the Schenectady County Sheriff's Office, but it wasn't until 1:30pm the next day that the dog was spotted near a home on Oak Hill Road in Schenectady County, and ASSV Director Kerrie Colin was able to corner the terrified dog in a small shed.
"She was so scared, it took be two hours to coax her out of the crate," Ms. Colin said Saturday as Millie sat in her new dog bed in Ms. Colin's office.
It turns out that Millie loves McDonald's cheeseburgers.
Though the Shelter's already had dozen of phone calls from people interested in adopting Millie, it will be a while before she's ready to leave.
She's severely underweight—weighing about what half she should, Ms. Colin said—has bad teeth and will likely to have a few removed, is being treated with antibiotics for a skin infection, and came in covered with fleas.
Because she has urine burns on her paw pads and belly, Ms. Colin theorizes Millie lived most of her life in a crate.
"And then someone just got tired of dealing with her," she said.
Because Millie's case has already received so much attention and no one's come forward with any information, Ms. Colin said it's unlikely they will ever know her story.
Still, everyone's keeping their fingers crossed.
Anyone with any information on Millie or the men who dumped her can contact one of the following: ASSV, (518) 296-8390; Schoharie County Sheriff's Office, (518) 295-8114; or the Sheriff's Tip Line, (518) 295-2295.
All calls will be kept confidential.
For now, Millie is bunking down in Ms. Colin's office, slowly getting used to her new and temporary surroundings.