Duanesburg historical center nearly completed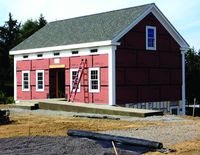 The Duanesburg Research and Archive Center is nearing completion in Quaker Street, Schenectady County.
"This building marks an important step in our goal of preserving local history," said Leonard Van Buren, president of the Duanesburg Historical Society.
"When the building is finished residents will have access to historical records related to Duanesburg and local families. On behalf of the Historical Society, thanks to everyone who made this possible through their enormous generosity."
The Society, which was formed in 1944, had a long-term goal of establishing a local facility suitable for the collection and storage of records related to the history of the town.
This year, there was enough money to get construction underway and, with additional donation, the project should be finished this year. The next challenge will be to get the building furnished and open to the public. Additional contributions are encouraged.
The building was designed by local consulting engineer Lance Manus and patterned after a farmhouse in Duanesburg dating from the early 19th century.
The construction is being done by local builder, Martin Hebert, who handcrafted architectural details.
Howard Ohlhous, Town Historian, said, "The research and education center is envisioned as a place where records and artifacts related to local families and town history will be secured for current and future generations. It will also be a place where people can do genealogical research, or find records related to town history. It will be an important addition to our town."
Donations to the building fund can be made through the website www.duanesburg historical.com or by mail: Duanesburg Historical Society – Building Fund, PO Box 421, Duanesburg, NY 12056.