House gets an earful of Farm Bill concerns
| | |
| --- | --- |
| 10/11/2017 | By Patsy Nicosia |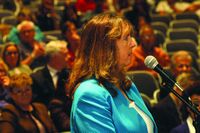 Cost of production.
And land
Immigration reform.
Canada, NAFTA, and free, fair trade.
Over-regulation.
Those were just a few of the national issues that took center stage locally Monday when Congressman John Faso and SUNY Cobleskill hosted members of the House Agriculture Committee for a listening session on the 2018 Farm Bill.
The legislators will take what they learned with them to Canada, where the discussion with their counterparts there will focus on dairy pricing.
"We are going to listen," Chairman K. Michael Conway, who represents the 11th Congressional District in Texas, told the crowd of about 150 people.
"You won't hear much from us. We hope to hear on a wide variety of issues."
"Well, I don't think you've been shown how bad things are on dairy farms," said Arden Tewksbury, a Meshoppen, Pennsylvania dairyman who was one of the first to talk about the difference between what it costs to make milk and how much farmers are paid for it.
"We need pricing that reflects our costs," he said. "For some of us, there's a $4-$5 difference. Margin insurance has not worked. Something has to be done out of the farm."
Margin insurance—the Dairy Margin Protection Program--was a piece of the last Farm Bill that let farmers buy insurance that paid out if milk prices dropped below a certain point; it was up to individual farmers to decide what that point was.
Denise Lloyd, who farms with her husband and sons in Middleburgh, said they signed up for MPP, thinking we were being proactive.
Seven thousand dollars later, "I feel like we were very much duped," Ms. Lloyd said. "It didn't work. It just added to our losses. How do we create a program that works?"
Immigration and the need for farm workers also concerned Monday's speakers with Eric Ooms, a Kinderhook farmer and vice president for the New York Farm Bureau among those calling for immigration reform.
"Congratulations. You're in Congress. You can fix that," he said to good-natured laughter.
But immigration issues don't affect dairy farmers, said Laurie Griffen of Saratoga Farm, calling for some sort of effective guest worker program.
It's all a matter of perspective, said Suzanne Graulich, whose family runs a multi-generation Carlisle dairy farm; increases in things like the minimum wage or the cost of complying with new regulations, have to be absorbed by the farm.
Her family's farm, she said, pays above the minimum wage, necessary to get good workers, but also because they have a good relationship with their employees "and we want to be able to do that.
"But because of the way we're paid, those costs can't be passed onto the consumer. Anything we do…can't be passed on. It becomes a penalty."
Chris Novak, a councilman for the Town of Mohawk in Mongtomery County, criticized government over-reach, high taxes, and poor access to markets.
"We're the people who are going to stay here when everyone else is gone," he said,
Other speakers called for better enforcement of the organic regulations…food stamp, food insecurity and the need to keep food stamps in the 2018 Farm Bill, the need to keep farmland in production, and more money for ag research and development.