Esperance witch earns her place in history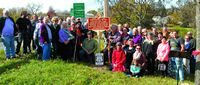 The Esperance witch finally has her official recognition.
A roadside "Legends & Lore" sign, similar to state historical markers, now stands alongside Route 30 and acknowledges the long-ago witch.
The Esperance Historical Society dedicated the sign Saturday with about 50 attending.
Whether the Esperance witch actually existed may be open to question, but the fact that she persisted through community legend was enough to merit the sign.
The Historical Society secured a grant for the sign from the New York Folklore Society, which collaborates with the Pomeroy Foundation for the Legends & Lore signs, a program that started last year.
Ellen McHale, executive director of the Folklore Society––and former director of the Old Stone Fort in Schoharie––said the signs "tell a story about small communities."
Such legends as the Esperance witch, Ms. McHale said, may be "not quite documented in the historical record but contain a kernel of truth passed around the community."
Esperance Town Historian Ken Jones read several brief histories about the early 1800s witch. In one, settlers became alarmed when missing cattle were found in her fields.
In another, the witch was French and married to an immigrant veteran from Napoleon's army. The witch couldn't speak English, so she was unable to communicate with neighbors and was ostracized.
In several instances, the stories agree: The witch was killed by a silver bullet fired through her kitchen window while she was cooking at the stove.
The sign actually stands on the Duanesburg side of the Route 20 bridge over Schoharie Creek.
It is on state property, Mr. Jones said, and getting Albany's approval took some time.
He praised several who helped: Smitty's Construction and Kirt Feuz who helped install the sign and Tom Gage, president of the Historical Society.
Bryan Farr of the Historic Route 20 Association presented Esperance with a sign from his organization, which recognizes historic sites along the route from Massachusetts to Oregon.
Mr. Farr, who lives in Chester, Massachusetts, said he spent an afternoon in Esperance and was fascinated by the town and its witch story.
"I tell it to everyone I meet along the highway," Mr. Farr said.
Esperance Mayor Chuck Johnston said he knew nothing about the witch when he came to the village but learned plenty after living here.
"This is one project to bring history back to the village," he said before unveiling the sign.
Mr. Jones pointed out that the Esprance Museum, maintained by Sandy Farah and Andrea Oliver of the Historical Society, has a new exhibit about the witch.
Although the sign is the in the same style as the blue-and-yellow state historical markers, its colors are red and tan.