DAR honors Worcester's Joe Kenyon for Community Service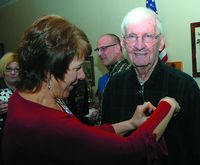 Kind words and awards came Joe Kenyon's way in Worcester Saturday afternoon.
With friends and family looking on, Mr. Kenyon received the Community Service Award from the Iroquois Chapter of the Daughters of the American Revolution in the DAR's annual ceremony.
Mr. Kenyon attended the event thinking that his younger brother would receive an award and was surprised when he was the guest of honor.
Speakers highlighted Mr. Kenyon's many contributions to Worcester, including his efforts to continue Memorial Day observances every May.
"You've given so much for so long, it's impossible not to say 'thank you,' " said Melinda McTaggert of the DAR.
Larry Bobnick, former superintendent at Worcester Central School, echoed those words.
"He's an outstanding man to know and be with," Mr. Bobnick said. "Thank you from the bottom of my heart."
Ms. McTaggert presented Mr. Kenyon with a certificate and medal, and DAR Regent Lauren Milavec pinned the medal on his shirt.
The chapter also announced winners of its Good Citizens Awards at Worcester and Schenevus schools. Parker Sheldon of Worcester and Nicholas Baker of Schenevus received the honors.
Joanne Spina of the DAR said both students exemplified the award's characteristics of dependability, service, leadership and patriotism.
Ms. Milavec said chapter members raise money every year for awards to students, not only the Good Citizens, but others as well.
"This chapter is very passionate about raising money and recognizing students," Mr. Milavec said.
In the past couple of years, "we've more than doubled the money going to schools," she added.