Middleburgh's Palmatier, Schoharie's Krohn break records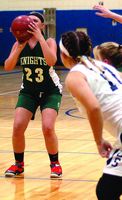 The career highs keep adding up for local WAC athletes.
Middleburgh Central School's Breanne Palmatier is the Knights' latest record-breaker.
Palmatier made her 80th career three-pointer against Morris, breaking Kiera Morgan's record of 79.
As of Friday, Palmatier was at 92 threes—and counting—and is on track to top 1,000 total career points this season.
And in Schoharie, Carrie Krohn finished out the 2017 soccer season with a new girls' record: 133 goals. Krohn beat the record previously held by Kelly Gannon at 121; above, Gannon is on the left and Krohn is on the right.