Bassett's first 2018 baby a local girl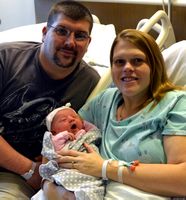 Marcy Pullman and James Fancher of Cobleskill welcomed their daughter at 1:21am Monday, January 1 at the Bassett Birthing Center in Cooperstown to make Isabella Marjorie Fancher the first baby of 2018.
Isabella, who weighed 8 pounds, 3 ounces and was 19 inches long, shares her birthday with her 92-year-old great-grandmother, Marjorie.
The Bassett Birthing Center also hit its own milestone just before Christmas 2017: It's 1,000 baby of the year delivered.