Gallupville looks to Zimmer legacy to breathe new life into hamlet
| | |
| --- | --- |
| 1/10/2018 | By Patsy Nicosia |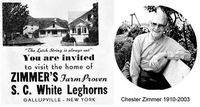 Only in Schoharie County—and maybe only in Gallupville—would a man born in 1910, who never went beyond the 10th grade, provide the inspiration for an effort, 100 years later, to continue restoring an 1872 hotel—and maybe with it, the community.
The man is Chester Zimmer, a lifelong Gallupville resident, farmer, collector of Early Americana, and a self-taught historian.
About six years before his death, Mr. Zimmer, who was beloved by just about everyone who knew him, taped a series of interviews about his life in Gallupville with longtime friend, the Rev. Bob Smith.
Chris Claus, who grew up across Route 443 from Mr. Zimmer and also counts him as a lifelong friend, was "gifted" the interviews.
Beginning in February, he'll show some of them in a film series at the Gallupville House, in part as a way to raise donations for ongoing work there, but, he hopes, also as a way to jumpstart a renewed interest in his community.
"When you see the interviews…there used to be so much here," Mr. Claus said. "But now there are vacant businesses, homes that are falling down.
"So much has changed in Gallupville. I'm hoping Chester can help us reignite a passion in keeping things going."
Mr. Zimmer's daughter, Naomi Wikane, by profession a librarian, but at 80, now retired, shares her late father's passion for history and is thrilled to see what Mr. Claus and others involved in the Gallupville House Inc. are trying to do.
"My dad was such a generous, giving man," she said. "He had so many friends—of all ages. He knew every inch of the Town of Wright and walked every inch of it…He had boxes of photographs and notebooks and he did it all for 'posterity.' Well, this is posterity and I know he's looking down on Chris and the others and smiling."
All together, there are about 10-12 hours worth of interviews in the tapes, Mr. Claus said; the screenings---the first Wednesday of February-May, beginning February 7 at 7pm—are about 30 minutes each.
"There's not a lot of action in them," he said with a laugh. "Bob set up his camera in the corner of Chester's workshop and they talked and looked at photos and maps. But what they talked about is fascinating—especially if you grew up here."
The tapes—now converted to CDs—sat in a box in Mr. Claus' home for about 20 yeas until last January or February, when the Gallupville House Inc. "got a new breath of life" and a grant for an architectural study.
Many of the events the hotel-turned-Grange Hall had hosted in the past—Easter egg hunts, ice cream socials—were the kind of memories Mr. Zimmer had shared.
"And that made me think maybe we could show the interviews and turn them into a fundraiser for the Gallupville House," Mr. Claus said.
That was the first time he looked at them.
Ms. Wikane has yet to see them.
"I wonder what emotions I'll have when I see my dad again," she said.
"I think you'll feel the same way I did," Mr. Claus said.
Mr. Claus was looking at the tapes with his brother, Bill, when he got another idea.
The interviews sparked so many of Bill's memories and recollections, he said, "What would happen if I showed them to the Gallupville senior citizens? I bet it would get them talking and remembering other things about Gallupville."
He'll find out tomorrow—Thursday—when he shows the group one of the interviews in a sort-of dry run for February 7.
Interest in the Gallupville House has come and gone in "fits and spasms" over the years, Mr. Claus said, but this time, he's hoping Mr. Zimmer's influence will help inspire residents—new and old—to focus again on rebuilding it and with it, the community.
And it's fitting, Ms. Wikane said, that it was her dad who got the Town of Wright to take over the abandoned Gallupville House in the mid-1970s.
"The fact that it's come up as many times as it has is telling to me," Mr. Claus added. "It's encouraging. It looks to the future with hope."

GALLUPVILLE HOUSE
EVENTS AND MORE…
The Gallupville House has a Facebook page that features upcoming events and information about the 1872 hotel.
"Like" it to learn more.
Also, Gallupville House Inc. is open to anyone who'd like to be part of promoting and supporting the building as a community center and helping with its restoration.
The group typically meets monthly. Events are planned throughout 2018 and all are welcome.
A contract dance is scheduled for January 27, followed by the first of the Chester Zimmer interviews at 7pm on Wednesday, February 7.
Gallupville House Inc. is non-profit and all proceeds go to grant matches and rehab projects.