C-R's Golding opens its Winter Olympica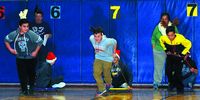 Even though the thermometer registered zero outside on Friday, Cobleskill-Richmondville's Golding School when ahead with Winter Olympics anyway.
Inside, of course.
The Olympics pitted sixth-, seventh- and eighth-grade teams against one another in a range of events, from an obstacle course in the gym to digital games in the cafeteria to chess in the library.
Eight-graders won the honors this year, with sixth-grade placing second and seventh-grade third.
The Olympics were originally scheduled for the last day before the Christmas break. Poor weather cancelled school, however, so the games were moved to Friday.