New MCS superintendent spends first day on job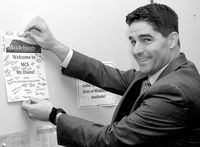 Brian Dunn is all about working with others.
That's how the Middleburgh Central Superintendent spent Thursday, his first day at MCS.
He met with other schools' superintendents, Middleburgh teachers and students.
"We're building teams and focusing on strong collaboration," Mr. Dunn said. "That's how things get done."
Mr. Dunn, 48, replaces Michele Weaver, who resigned in August.
He comes to Middleburgh from Troy, where he was a middle school principal for eight years and a high school assistant principal for five years.
There's an obvious difference in size between the two districts, but Mr. Dunn maintained, "Kids are kids whether they're in Troy or Middleburgh.
"And the issues are the same. It's just a difference in scale."
Mr. Dunn took the Middleburgh post as a new challenge and also to bring his leadership skills to the district.
And there was another reason, too.
"I just love this setting––the hills, the valleys, the farms," he said. "It's beautiful."
He'll use his leadership skills to address the usual issues of funding, supporting teachers and improving student performance.
And Mr. Dunn said he'll also be a leader in dealing with what's become a hot-button issue: School safety.
At his first school board meeting last Wednesday, two parents asked about safety. Mr. Dunn took their names and phone numbers to invite them to be part of the process.
School safety, he said, goes beyond the tragic shootings at Parkland, Florida.
"Whether we're talking about an active shooter, an angry parent or flooding, we have to be ready," Mr. Dunn said.
"We're forming a committee to talk about school safety and security. How far does the community want to go? We can figure it out together."
Mr. Dunn seeks to involve the community in other ways, too, because he believes the school district should be tightly tied to the community.
The key, he added, is to be sincere about community involvement and not have it just as a showpiece.
"We have to invite people to come to the table," Mr. Dunn said. "It has to be relentless. So goes the school, so goes the town."
He was impressed with the school board in earlier meetings and also with staffers he met the first day. Those folks will be part of the Mr. Dunn's teams.
"We have so many talented people," he said. "How can we get better?
Mr. Dunn also wants to be involved in Capital Region BOCES's advocacy efforts on school funding and equity for rural schools.
"Every year it's a fight just to maintain what we have."
Mr. Dunn said he does not plan to move into the district.
He and his wife, Laurel, live in West Charlton and have three children: Declan, Oisin and Sylvia.
Mr. Dunn enjoys fly fishing and mountain running.