Run 4 the Hills for First Responders: Are you up to the challenge?
| | |
| --- | --- |
| 3/28/2018 | By Patsy Nicosia |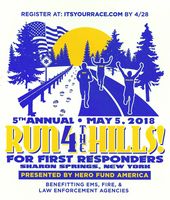 A grueling, twisting, mostly-uphill course; sweat, blisters, and for some, tears; and a shot at fame, if not fortune, are all waiting for those who sign on for this year's Run 4 the Hills for First Responders, a four-mile walk-run through the streets and hills of Sharon Springs, that despite all of that, is still a heck of a lot of fun.
Even for the 70-some participants who'll be there with 50 pounds of EMS or fire gear on their backs.
The fifth Run 4 the Hills is set for 9am Saturday, May 5, with both the start and finish line at the American Hotel in Sharon Springs.
Registration deadline in April 28.
Sign-up online at Itsyourrace.com.
American co-owner Garth Roberts first conceived of the walk-run in 2013 as a way to support the kind of rescue workers who lent a hand after the Boston Marathon bombing.
In 2016, the Sharon Rescue Squad challenged fellow EMS and fire vols to tackle the course in full turn-out gear; last year with new directors, Run 4 the Hills expanded that focus, drawing 67 tacked-up participants from across the Northeast.
Since then, Patty Johnstone, the non-profit's secretary, who's married to State Trooper Chip Johnstone, has launch an all-out effort to draw even more rescue, fire department and law enforcement participants to this year's event.
Ms. Johnstone admits convincing those who walked and ran the course last year to participate was it's own kind of challenge.
So this time around she's upping her game.
"I sat here so many nights, groveling and begging these squads to participate…" she said.
At first, she didn't get a lot of takers—probably because the course is so brutal, even if you're a "regular" runner who's trained for it.
"To ask these guys to run it in gear, was asking a lot," Ms. Johnstone said. "They're not all athletes."
One of the first to commit last year was Cobleskill Police Chief Rich Bialkowski.
Then, Canajoharie Chief Bryan MacFadden.
Then, some of the fire departments, including Cobleskill and a couple of Ms. Johnstone's now-favorites, the young and small Schoharie and Gallupville FDs.
"I think they started talking to each other and decided it was an idea worth supporting," she said.
"It's a very emotional day. That last hill…everyone thinks 'I can't do this.' And then they do. Last year, it was foggy, they walked in under that big American flag. It made us all cry and they'll never forget that feeling of having done it together. You have to prove to yourself that you can do it."
Run 4 the Hills for First Responders is grounded in service to first responders, Ms. Johnstone said, believing that it's essential they have the most up-to-date training and equipment to do their job—which for many, is a volunteer gig.
Prizes and refreshments for the post-race celebration are donated and the day's proceeds—last year it raised $30,000—go to the foundation Hero Fund America and the Sharon Springs Rescue Squad.
Music is a given and this year, LifeNet of New York will have one of their rescue helicopters on display across from the Roseboro Hotel.
Organizing the walk-run is an all-volunteer year-round effort and this year Ms. Johnstone's spent almost every Saturday rounding up participants at every FD pancake breakfast and steak dinner she can find.
She's also begun doing online profiles of some of the past-participants whose stories she finds especially compelling.
"These people want to tell you their stories," she said. "They come to this for so many different reasons and I've been trying to share that.
One of Ms. Johnstone's profiles tells the story of a volunteer who completed the course a year after being diagnosed with multiple sclerosis. Another features a 74-year-old walker who'll be on the course for the second time.
"There's a bigger purpose to this event," Ms. Johnstons added. "There's a lot of camaraderie, but it's all about everyone coming home together at the end of the day. Anyone in EMS or a fire department or law enforcement, that's what it all comes down to: Making sure everyone comes home every day."
For more information on the race, email Ms. Johnstone at patty@herofundamerica.org or call her at (518) 231-1751.