Middleburgh's Best House, Medical Exhibit one-of-a-kind
| | |
| --- | --- |
| 4/17/2018 | By Patsy Nicosia |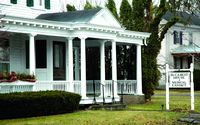 If you close your eyes when you walk through the front door of Middleburgh's 1884 Best House, it's not hard to imagine it as a bustling home and doctor's office with the sound of piano lessons going on on one side of the pocket doors and straight ahead, Dr. Christopher Best, or in later years, his son, Duncan, treating patients--or in the room beyond, the kitchen, performing emergency surgery on the zinc-topped kitchen table.
Duncan Best, who is fondly remembered by many of Middleburgh's residents--snapshots taken not that long ago show him waving a top hat from a parade float--bequeathed the Italianate Victorian his family called home for more than a century to the Middleburgh Library when he died in 1991, asking that his office be preserved and kept open to the public as a medical exhibit.
Since then, the Dr. Best House and Medical Exhibit has been a labor of love for volunteers like Trish Bergan, director of operations, and an Advisory Committee that includes Andrea Paglieri, director of Building and Grounds; Terry Pavoli, head librarian and director of Events, Programming, and Marketing; and Eileen Laspaluto, director of Grant Research and Writing.
The Bests never threw anything away, said Ms. Bergan during a tour of the Best House Friday.
That means that everything in the house--the paintings and portraits hung on the walls, the lights and lamps, the hand-painted curtains, the bookcases filled with books, children's toys, radios, Duncan's World War II memorabilia, and the medical equipment, records, price charts, and even a small pharmacy of medicines, pills, and potions--was owned by one of the Bests.
"It may be one of the very few rural medical museums that still has everything original and not put together from different collections," Ms. Bergan explained. "That's one of the reasons some of us get a little obsessed with this...it's so unique and special."
The family ran the house with no servants and it would have been quite a grand home for the time, she said, with a telephone, electric lighting, an intercom system, and intricately carved woodwork and tiger maple paneling.
Officially, the Best House is an exhibit, not a museum--something volunteers are working with the state Education Department to change.
Becoming a chartered museum, Ms. Bergan said, would let them apply for badly-needed grants.
Like any old Victorian, the Best House faces the constant threat of things like a leaky roof and the expense of routine maintenance--worries that keep the volunteers up at night.
Then there's the story of the feral cat--a kitten, really--who somehow got locked inside over Christmas and did about $7,000 worth of damage to curtains and bedding before it was discovered and freed.
The Best patriarch--Christopher--was born in Fultonham in 1852, began practicing medicine in 1876, and died in 1934 after two marriages; Laura, died young, and Ursula died in 1948.
Other familiar Bests include Emma, Christopher and Ursula's daughter, who never married and would have likely been teaching those piano lessons—she was the last Best to live in the house--and Winnie, Duncan's wife and a nurse.
Throughout his life Christopher was involved with the Middleburgh Telephone Company, Middleburgh Central School Board of Education, Schoharie County Red Cross, and the Middleburgh & Schoharie Railroad.
His family continued that legacy, one of the reasons they were so beloved in Middleburgh, Ms. Bergan said.
"And then, there's this wonderful house and everything in it," she said.
As part of their efforts to keep the Bests' memory alive, volunteers hold a variety of family-friendly events from May through December, many of them part of Middleburgh's 4th Friday fun.
The house is open Saturdays and Sundays for tours from noon-4pm, from Memorial Day Weekend-Labor Day Weekend.
Tours are also available by appointment year-round and the house is available for small meetings and events. Call (518) 827-7200 for more information.
There's no admission fee for tours, but donations are gratefully accepted.
2018 classes and events at the Dr. Best House include:
• May 25, 6-8pm, 4th Friday Celebration with pony rides, a petting zoo, and an old-fashioned ice cream social.
• June 2, 1pm, "Herbs that Delighted the Victorians."
• June 9, 11am and 1pm, Mother-Daughter Flower Fairy Tea.
• June 22, 6-8pm, 4th Friday Celebration, old-fashioned carnival games and prizes.
• July 13, 1pm, "Crafts in the Carriage House." Make a Muddy Puddy jar.
• July 21, 1pm, "The Many Layered Victorian Woman."
• July 27, 6-8pm, 4th Friday Celebration, Homespun Family Dance.
• August 4, 1pm, "A Civil War Surgeon."
• August 24, 6-8pm, 4th Friday Celebration, Schoharie County Animal Shelter Night and bake sale.
• September 29, 1pm, "The History of Crazy Quilting and Trunk Show," with Betty Pillsbury.
• October 13, 1pm, "Victorian Post-Mortem Photography."
• October 20, 7pm, Paranormal Investigation with the Tri-City Paranormal Society.
• December 7, 5:30pm, Miracle on Main Street, the Elves Toy Shop.
• December 15, noon-3pm, Victorian Christmas Tea.