Blenheim Bridge moving into place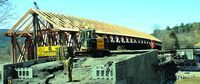 Not so slowly anymore, things are moving into place for the Blenheim Bridge.
Last Wednesday, crews began jacking the reconstructed bridge onto large dollies, and by Friday, they'd used hydraulics to slowly move the massive structure toward and then onto a temporary structure over the Schoharie Creek.
Now, the bridge will gradually be jacked up to the awaiting abutments and carefully eased onto reinforced concrete supports.
Anyone interested in watching the process, which is being filmed by a TV crew from Great Britain as part of a PBS documentary to be aired after the project's completion, is asked to watch from a safe location and to not block traffic on Route 30 or Eastside Road.
Once the bridge is in place there, the timber experts at 3-G will make any temporary required adjustments or corrections such as the shimming of floor joists, according to Flood Recovery Coordinator Bill Cherry.
Pieces of the original bridge are being incorporated into its replacement, possibly including segments of the original hand-hewn rafters or flooring or pieces of the original hand-forged ironwork.
"So while the original historic landmark bridge may now be gone, at least some of the components of the new structure will memorialize and pay tribute to that important piece of Schoharie County's heritage," Mr. Cherry said.