2018 Run 4 the Hills already setting records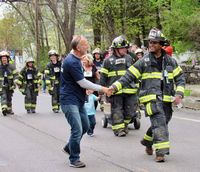 Even if you're not man—or woman—enough to strap on 50 pounds of gear, you'll want to be there to cheer on those who are when the 2018 Run 4 the Hills for First Responders takes to the hills of Sharon Springs at 9am Saturday.
The race starts and finishes at the American Hotel.
Packet pick-up and race registration is Friday from 3-6pm at the American and if you're still deciding if you're up to the challenge, 7:30-8:30am Saturday.
You don't have to wear rescue, fire department or law enforcement gear to run; "regular runners" are welcome to join the four-mile walk-run too and at last count, about 400 people had already registered for the event.
Of them, there are about 20 teams for a total of about 100 EMS and law enforcement participants.
American co-owner Garth Roberts began Run 4 the Hills in 2016 as a way to support rescue workers.
Three years later, the Sharon Springs Rescue Squad challenged fellow EMS and fire vols to tackle the course in full turn-out gear.
Last year, Run 4 the Hills expanded that focus, drawing 67 "geared" participants from across the Northeast and raising $30,000; Saturday's run promises to raise even more for Mr. Roberts' Hero Fund America and the Sharon Springs Rescue Squad.
Also Saturday, an EMS helicopter from LifeNet 7-2 of New York, Guthrie Air will be landing on Main Street at 7am, across from the Roseboro Hotel.
A party celebrating all of the day's participants will wrap up the event afterwards at the American.