Cobleskill football to mark 50 years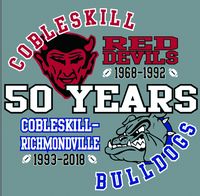 Red Devils and Bulldogs will be gathering in late August to celebrate 50 years of Cobleskill and Cobleskill-Richmondville football.
The anniversary event will be at C-R's opening game August 31 when the Bulldogs host Averill Park.
Cobleskill's first coach, Frank Collins, who now lives in Florida, will be on hand, as will many other former coaches and alumni players.
The idea for a celebration came from Don Bond, Coach Collins' only assistant coach when Cobleskill football started in 1968.
"Don came to a Booster Club meeting and brought it [the anniversary] to our attention," said Trisha Miller, a '92 Cobleskill grad and member of the C-R's All Sports Booster Club.
The club formed a committee, with former coach Tim Snyder and former player Randy Pacatte as co-chairs and began planning the anniversary, Ms. Miller said.
Coach Collins will address the crowd, and at halftime there will be a parade of players from each decade, starting with the '60s.
"We're inviting anyone who played for Cobleskill or Cobleskill-Richmondville," Coach Bond said.
Joe Moore, who for years was a member of the sideline chain gang, will be the grand marshal for the parade, Coach Bond added.
Pre-game tailgating with vendors and food trucks will kick off the event.
Tents and tables will be set up, and there will be displays of helmets, jerseys, yearbooks and other memorabilia.
The Booster Club is also making 50th anniversary tee shirts, Ms. Miller said.
"It should be a great weekend," Coach Bond said.
Ms. Miller said that plans are still being firmed up, and there will be updates in the Times-Journal and the Booster Club's Facebook page.
"We're trying to make it extra-special," she said.