'18 SCS grad takes stage as Mormon Video star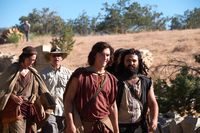 Jackson VanDerwerken, a 2018 graduate of Schoharie High School, is portraying Nephi, a central figure in the new Book of Mormon Video Library produced by The Church of Jesus Christ of Latter-day Saints and scheduled for release in 2018.
Jackson's acting experience began in fourth grade with a role as the child lead in SCS's production of "Ragtime."
"At that age, the rehearsal schedule and the late nights were demanding and exhausting, but I loved seeing how my performance could affect others and make them feel," Jackson said.
He went on to do community theater at the Timothy Murphy Playhouse in Middleburgh playing roles such as Willy Wonka, the Mad Hatter, and Iago in Aladdin.
In high school, he switched his focus to sports but continued to take acting roles in school and community productions.
A few months into his junior year, Jackson heard about the upcoming production of the Book of Mormon films.
He submitted his audition video for the role of Nephi thinking his chances were slim.
"The call the Nephi was to be a minimum age of 18, over six feet tall, and muscular. At 16, barely six feet tall, and as thin as a string bean, it was hard to see myself playing the part at all," he said.
But two months later he learned that, out of over 800 auditions, he was one of three finalists chosen for the role of Nephi.
Being cast as Nephi required Jackson to bulk up, gaining 15 pounds of muscle in just over two months, and, on same days, spend two and a half hours in makeup while they glued a hot, itchy beard to his face.
"They dumped two hundred gallons of water on me twice for every take," he said of a storm-at-sea scene taken from 1 Nephi: 18 of the Book of Mormon.
"There were water cannons to simulate rain and wind. But even through the bitter cold, I knew that what I was experiencing was only a fraction of what Nephi withstood."
Jackson will fly to Brazil and join the worldwide ranks of the Church's 67,000 missionaries to share the message of the Book of Mormon, which begins with the story of Nephi.