142nd Sunshine Fair wet but wonderful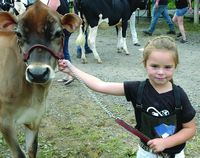 Dodging raindrops nearly every day, the 142nd Sunshine Fair still lived up to its name of Schoharie County fun.
Six days of farm animals, rides, exhibits, music, circus acts, racing pigs, tractor pulls and demolition derbies gave Fair-goers plenty of options to enjoy themselves.
As always, the T-J put in time on the Fairgrounds; here's a sampling on photos. Lots more are in this week's paper.
Also, five lucky readers are winners in T-J's first-ever subscription raffle at the Fair.
Winners of a year's subscription to the T-J are:
•Sarah Hunt, Middleburgh.
•Nadine Panarese, Cobleskill.
•Thomas Price, Schoharie.
•Christine Smith, Warnerville.
•Wendy Beevers, Cobleskill.
"It's the first time we've done a raffle like this," said Publisher Jim Poole. "We're glad to offer Fair-goers something to enjoy all year."
Their new subscriptions will start with the August 22 issue.
The raffle was at the T-J's booth in Progressland.