Esperance slates talk on Thomas Cole expert; see the painting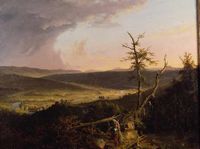 The Esperance Historical Society will host art historian William Coleman for a free program on Thomas Cole and his time spent at Featherstonhaugh Park painting scenes of Esperance and Duanesburg on September 1 at 1pm at the Old Stone Presbyterian Church on Church Street.
Following the program, guests are invited to enjoy refreshments at the Esperance Historical Museum next door and see a recently acquired reproduction of Mr. Cole's "View on the Schoharie," looking down on the Village of Esperance, as well as a collection of local art and folk art.
Mr. Cole is considered the father of the Hudson River School of landscape painting, and in the mid-1820s, he spent time in Esperance at the home of his patron George Featherstonhaugh.
His 1826 "View of the Schoharie," which depicts Esperance and a storm passing through the Schoharie Valley, is in the permanent collection of the Fenimore Art Museum in Cooperstown, where "Thomas Cole and the Garden of Eden" is on exhibit through September 30.
Dr. Coleman is a historian of art, architecture, material culture and music with particular interests in landscape and country houses in the Anglo-American world.
He is an associate curator of American art at the Newark Museum with primary responsibility for that institution's major collection of 19th century American art.
For more information on the September 1 program, contact Esperance historian Ken Jones at (518) 875-6854 or kjones8@nycap.rr.ocm.