Spa library adds 3,000-CD opera collection
| | |
| --- | --- |
| 8/22/2018 | By Patsy Nicosia |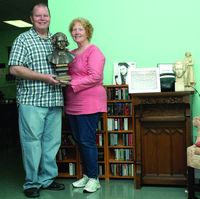 What do Luciano Pavarotti Placido Domingo, and Beverly Sills all have in common?
They're all "singing" at the Sharon Springs Free Library thanks to a long-distance friendship and an Opera Club that now boasts more than 3,000 CDS, 300 movies, seven statues and a lifetime's worth of opera posters and other memorabilia.
Since April, Pam and Mike Luby of Sharon have been working to create the William Maher Opera Club and collection at the library.
Ms. Luby is the library's treasurer; her husband sang 28 summers with Glimmerglass Opera.
Mr. Maher was a longtime opera fan who grew up in Brooklyn and retired to Warrensburg with his wife, Rosemary, bringing his passion for opera with him.
When Mr. Maher died in February, his wife reached out to her local library, looking for a home for his extensive opera-related collection.
Word spread to the Mohawk Valley Library System and from there, to Sharon and the Lubys.
"With Glimmerglass Opera nearby, it just seemed like something that would be a great fit with our library," Ms. Luby said.
So she and other library board members made a trip to Warrensburg to meet Ms. Maher and see the collection—and came back with tubs and tubs of CDs.
"There's every kind of opera you can imagine," said Mr. Luby, "from the 15th century to the 21st. He didn't set limits on what he enjoyed," which means the collection also includes classical and even folk music.
According to Ms. Maher, her husband's love of classical music began in an Irish Pub in Rockaway Beach when he discovered a beloved performer--John McCormick—sang not only Irish music, but classical as well.
His career working for the New York City Board of Education Bureau of Plant Operations made it easy for him to indulge what became a love of opera; he saw hundreds of performances at the Metropolitan Opera House and Carnegie Hall and even visited opera houses around the world.
For years, Ms. Maher said, her husband also held weekly opera evenings and classes for friends and when they moved to Warrensburg in 1999, he continued those sessions.
He died February 14, 2018—just four days before his next session.
"His notes were ready and scenes from recent performances of Salome were part of the planned meeting," Ms. Maher said.
"He loved planning each session and spent hours preparing to share with those attending."
Since the Sharon Library acquired the collection, Mr. Luby has spent hours cataloging it, transferring Mr. Maher's handwritten 3x5 cards to an online digital database.
He's also been building and repurposing shelving for the collection, which is tucked in a corner of the library.
"It will probably take us a couple more months to get it done, but it's incredible to be part of this," Ms. Luby said.
"Opera is what brought us to Sharon," Mr. Luby added. "It's a great project and a great fit."
For more information on the collection and the Opera Club, contact Director Helen Thomas at the library at (518) 284-3126.