Cobleskill sports mural has interesting history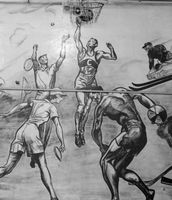 Clyde Slocum likely smiled when he spotted the big 'C' on the basketball jersey.
The Cobleskill High School principal, along with three other men, had traveled to New York City by truck to salvage a big sports mural.
It was late fall of 1940, and the World's Fair, having just ended its two-year run, was being dismantled.
In April 1939, President Franklin D. Roosevelt had opened the fair, featuring Albert Einstein, Babe Ruth, Queen Elizabeth and seven-foot smoking robot Elektro the Moto-Man.
A time capsule designed by Westinghouse to last 5,000 years was buried 50 feet underground to be opened in the year 6939.
With its iconic Trylon and Perisphere—610 feet high and 180 feet in diameter, respectively—the 1939 World's Fair, 'building the world of tomorrow,' was larger-than-life—and the new Cobleskill High School now had a piece of it—14 feet high and 72 feet across.
"By being the first applicant to approach (Fair President) Grover Whalen and the New York World's Fair authorities," reported the Cobleskill Times of December 5, 1940, "the Cobleskill central school is now the possessor of a large and decorative sports mural for the high school gymnasium, salvaged from the Fair."
The mural, which had decorated the outside of the fair's Academy of Sport building, had been created by Burris Jenkins, Jr. —the chief editorial cartoonist for The New York Journal-American and the Hearst newspaper chain.
Born in Indianapolis, the son of a preacher, Jenkins went to Harvard, interrupted by a stint as a flier in Europe during World War I, before moving to New York City.
He died in Florida in 1966 at age 69, having spent 45 years as a cartoonist, winning practically every award open to cartoonists, except the Pulitzer Prize.
As for that 'C' on the mural's basketball player? It may be seen on Jenkins' original sketch, so it was not added later. Perhaps it stood for 'Central.'
For the past 78 years, it has stood for Cobleskill.