All-star lineup for Klinkhart Poetry Fest
| | |
| --- | --- |
| 9/26/2018 | By Patsy Nicosia |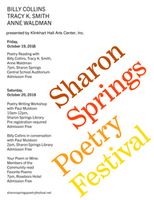 If you know your contemporary poets, you'll immediately recognize the all-star lineup for the 2018 Sharon Springs Poetry Festival.
And if the only poets you can name are the ones you studied in high school?
Edgar Allen Poe, Emily Dickinson or Robert Frost maybe?
Don't worry.
The second annual Klinkhart Hall Arts Center event has you covered too.
This year's Poetry Festival will run from Friday, October 19-Saturday, October 20, with events both at Sharon Springs Central School and the Sharon Springs Free Library.
In addition to a free poetry reading and workshops, there will be poetry discussions, a "conversation" with 2001-2003 Poet Laureate Billy Collins, and even a "Your Poem or Mine," open poetry forum at the Roseboro.
The poets?
• Mr. Collins, who's been called the most popular poet in America.
New York State Poet from 2004-2006, Mr. Collins has taught around the world and was the first annual recipient of the Mark Twain Prize for Humor Poetry in 2005.
• Paul Muldoon, a part-time Sharon Springs resident, Irish poet and poetry professor; winner of the 2003 Pulitzer Prize for Poetry—and founder of the Poetry Festival.
• Tracy K. Smith, author of the memoir "Ordinary Light," and four books of poetry, including "Life on Mars," which received the 2012 Pulitzer Prize; and a two-term Poet Laureate.
• Anne Waldman, a poet, teacher, performer, and activist, author of more than 40 books of poetry, and with Allen Ginsberg, co-founder of the Jack Kerouac School of Disembodied Poetics at Naropa University.
More information on all of the poets and the festival is available at Klinhart.org/poetry.
Denise Kelly, who's been working with Mr. Muldoon and others to organize the Poetry Festival, said they began brainstorming and considering suggestions for this year's event nearly as soon as last year's was over.
One of the things they heard was that while not everyone was interested in a one-on-one critique of their own work, they were interested in learning more about poetry—how to read or listen to it, its history, and its importance.
"We kept that in mind when we were planning this year's event," Ms. Kelly said.
Like last year, key pieces of the festival will be workshops and readings for students and teachers from Sharon, Canajoharie, and Cobleskill-Richmondville at SSCS Friday and workshops with Mr. Muldoon and Mr. Collins at the Sharon Springs Library at 10am Saturday, both limited to 12 participants.
Mr. Muldoon's workshop is filled; call the library at (518) 284-3127 to see if there's still space with Mr. Collins.
Also Friday, all four poets will read from their work in the SSCS auditorium at 7pm.
New will be a 9am talk Saturday in the library by Ms. Waldman, who will discuss her recent book, "Trickster Feminism," "a collection of writing rituals for protest and resistance."
Then, at 2pm, the library will also be the setting for "Paul Muldoon in Conversation with Billy Collins."
Finally, at 7pm, the Roseboro will host "Your Poem or Mine, with Mayor Doug Plummer as emcee.
Participants can read or recite their own poem or another favorite short poem in a relaxed atmosphere; refreshments will be available.
All of the Poetry Festival events are free, but the Klinkhart Arts Center depends on—and welcomes—donations.
This year's festival is sponsored in part by the O'Connor Foundation, Adelphi Paper Hangings, Sterling Insurance, Stewart's Shops, and Wal-Mart Distribution with in-kind donations from 204 Main Bistro, the American Hotel, Black Cat Café, and Roseboro.