College homecoming cuts ribbon on future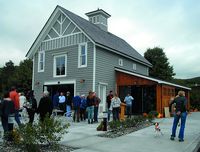 Homecoming welcomed not only alumni but also new features at SUNY Cobleskill over the weekend.
Students, faculty, administrators and officials cut the ribbon on the Carriage House Café and General Store Saturday morning.
The café, on the ag side of the campus, offers local produce, items made on campus and a variety of other goods.
Speaking before the ribbon-cutting, Ag Professor Jason Evans praised the college's facilities staff and administration for their help with the café.
"This will be a learning lab for students as they partner with local producers," Dr. Evans said. "We're really excited about this project."
College President Marion Terenzio called ag education "one of the most noble efforts an institution can do."
The 'general store' in the café's name, she added "speaks to the future and the past."
Assemblyman Chris Tague noted the tighter ties between the college and community in recent years, adding that the link can only make both stronger.
State Ag and Markets Commissioner Richard Ball also touched on that theme, calling the new café and general store a new "connection between agriculture and the public."
Later in the day, the college welcomed the Iroquois Indian Museum's Research Collection to the Van Wagenen Library. The collection includes tribal newsletters and books formerly in the museum in Howe's Cave.
Elsewhere on campus, visitors enjoyed a fishing derby for kids, a tractor show, family fun fair, athletic hall of fame inductions and a variety of on-campus dining.
At 5pm, a parade from the Cobleskill Fairgrounds wound through the village to the campus.