Cobleskill hotel shut down for code violations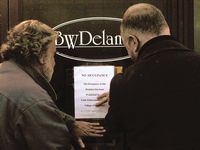 What was once Cobleskill's most popular motel, bowling alley and gathering spot is closed.
Backed by police officers in case anger flared, village Codes Officer Mike Piccolo late Friday afternoon closed the Inn of Cobleskill––formerly Rodeway, the Best Western, and long ago, Top of the Town.
But there was no anger, only sadness. One of just two guests Friday night, a homeless veteran, was brought to tears by having to leave with no place to go.
On Monday, however, the man who said he's the new motel manager vowed to fix the problems and reopen in a month.
Mr. Piccolo cited deficiencies in fire protection, carbon monoxide detectors and other safety measures in closing the inn.
"And that's not all," he said. "There's also mold, electrical issues and emergency lighting."
It's state law, he added, that all commercial buildings have carbon monoxide protection.
Mr. Piccolo said he'd been working with the owners, IConnect Hospitality, for two years to bring the motel into compliance.
"I've given them every chance I could," he said. "It was a non-stop 'Yes, we will,' but nothing happens."
Mr. Piccolo issued the owners a 30-day order to remedy on October 3, then gave them another month––till Friday, November 30––to fix the problems.
With little or no response from the owners, Mr. Piccolo conferred with Mayor Linda Holmes and the village board.
"The Mayor finally said do what's necessary––close it," Mr. Piccolo said.
"I'm not putting guests or the people who work there in danger. I'm not putting the village in liability, and I don't want to be liable."
At 4pm Friday, Mr. Piccolo, Police Chief Rich Bialkowski and Lieutenant Jeff Brown posted "No Occupancy" signs on the doors of the motel and BW Delaney's, the restaurant and bowling alleys.
The front-desk person notified the guests and did her best to find lodgings for the veteran.
Rehabilitation Support Services was moving out at the same time, heading for a new location at the former Maranatha building in Warnerville.
Even though Mr. Piccolo was just posting the signs then, "We knew something was going to happen," an RSS worker said as she loaded a car with supplies.
A Facebook message Friday said that the place was closed "due to the owners not keeping the building up to fire code."
The post went on to say people could pick up personal belongings, such as bowling balls and shoes, at the lanes.
Friday wasn't the first time Mr. Piccolo closed the motel. He shut it down for two weeks earlier this year because the "humidity from the pool was peeling the paint off the doors."
There have been other problems, too. Schoharie County Treasurer Bill Cherry in October filed a lien against Rodeway for $65,000 in back Occupancy Taxes owed to the county.
And just weeks ago, the state Department of Taxation and Finance nearly closed the inn for non-payment of $72,000 in taxes before the owner paid the bill.
This time, however, "the money isn't the issue, it's safety," Mayor Holmes said. "That's our biggest concern. We back Mike completely."
The inn isn't closed for good. Mr. Piccolo estimated construction crews could repair the problems in three weeks.
Going forward, Mayor Holmes wants to see the hotel return as a place to host weddings, meetings, community events and more.
"I hope this is an eye-opener for them to bring it back to what it was," she said. "You guys gotta do something."
And they will, according to Pat Patel, who said he recently took over as manager.
"We're getting a whole new alarm and carbon monoxide system," Mr. Patel said, adding that he's seeking a new franchise. "Whatever Mike wants, we'll do."
He signed a contract with ABM Fire Equipment of Milford to do the work. Mr. Patel estimated the motel would reopen by January.