Maranatha getting new life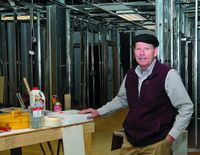 A giant, empty shell of a building a year ago, the former Maranatha gym is moving back into the economy.
Mike Moore and his partners, Mike Galasso and Anne Marie Galasso, are renovating the huge Warnerville building into commercial rental space.
The trio formed 2457 Holdings LLC and bought the former Maranatha early this spring.
Having been closed for five years, the gym was in rough shape, and there were fears that it would deteriorate into uselessness.
But Mr. Moore and his partners plan to turn its condition around.
That's a big job, however. The indoor pool was still full when it closed, and humidity caused problems to the carpet and sheetrock.
"We took out all the dropped ceilings, sheetrock and carpet," Mr. Moore said. "We took it down to the studs.
"And the dehumidifier ran for 3,500 hours."
Now, crews are putting up new sheetrock and getting the place presentable again.
There's already one tenant––Rehabilitation Support Services––that moved into temporary quarters on the second floor.
RSS had to hurriedly move out of the Inn of Cobleskill when the Village of Cobleskill closed the inn several weeks ago.
RSS feared that closure was coming, Mr. Moore said, so his workers quickly made space for the agency. RSS will remain there for three to five months until new quarters, also on the second floor, are ready.
There's plenty more space to rent. The building encompasses about 70,000 square feet, including a 29,000-square-foot warehouse––the former Astroturf field––that a New Jersey company that deals with utilities may rent.
Taking a tour of the building, Mr. Moore envisions much of it as office or health-care space, though the ground-floor area facing Route 7 "would be perfect for retail," he said.
"Whatever somebody's looking for, we can get it to fit," Mr. Moore added. "We'll make it work."
Working with Town of Richmondville officials has been a pleasure, he said, and Richmondville Codes Officer Mike Piccolo returned the praise.
"We're very happy," Mr. Piccolo said. "It's really good for the economic development for the town and the county.
"We knew after Mike and his people bought it that it wouldn't take long because they want to work and do it right."
With work still to be done, the three partners haven't actively advertised the building, but with RSS in place, "we think word of mouth will spread the news," Mr. Moore said.
A name change is in the plans, too, as "Maranatha" carries unpleasant vibes. For now, Mr. Moore and others are calling it 1461 Richmondville, the address, while they come up with a new name.
"We're pleased, really pleased, with how this has gone," Mr. Moore said. "This will be a continual process. It is big, no doubt."

• • •
Stella McKenna opened the huge gym in 2012, moving her Maranatha physical therapy business from Elm Street, Cobleskill to Warnerville.
Maranatha closed a year later. New York Business Development Corporation bought it at a 2015 auction.
The corporation's original asking price was $1.505 million, later reduced to $950,000.
2457 Holdings LLC bought the gym for less than that.