Jefferson sets talk on historic buildings, places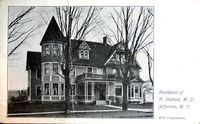 Jessie Ravage, a preservation specialist, will give a talk on how the Town of Jefferson developed based on her research of buildings in the hamlet, at 2pm on Sunday, January 13, in the former Masonic Hall, 163 Main Street.
Ms. Ravage recently conducted an Intensive Level Survey of Jefferson's hamlet, which could become a Historic District and be listed on the State's Register of Historic Places.
The study was commissioned by the Jefferson Historical Society, and paid for in part with a grant from the Preservation League of New York.
Ms. Ravage will discuss how economic factors determined the town's growth and dictated the style of its buildings.
Since few buildings have been erected since 1950, Jefferson exhibits a high degree of historic integrity.
With most original buildings preserved or minimally altered since the mid-1800s, the hamlet is a nearly intact example of historic Jefferson and of life in earlier times.
Using JHS President Kevin Berner's two-volume book, "Jefferson Then and Now," Ms. Ravage will reference old photographs of the hamlet that show the various businesses and offices that have existed through the years.
This event, which will provide a window into the history of the town, is free to the public.
Refreshments will be served.