Tague marks New Year with wedding, swearing in
| | |
| --- | --- |
| 1/9/2019 | By Patsy Nicosia |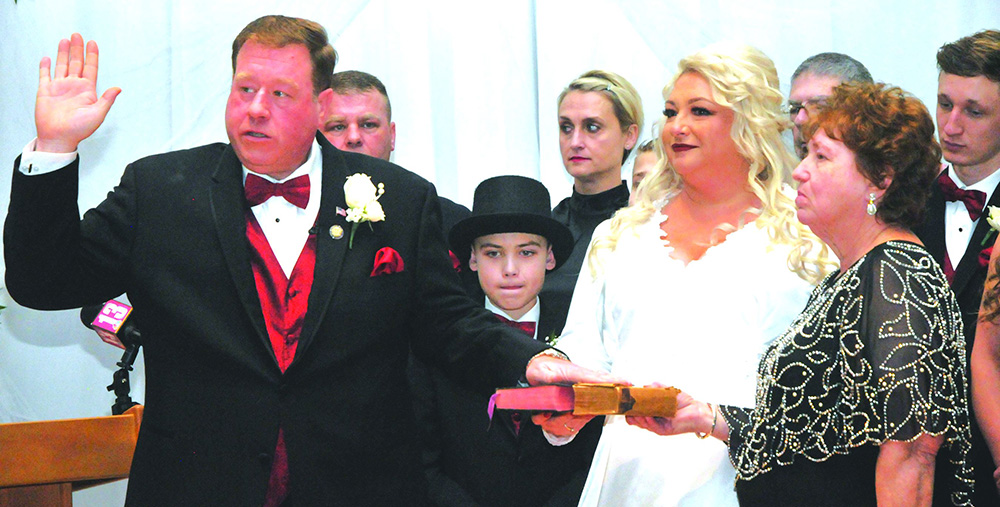 Vowing first his love to now-wife Dana Buzon, then pledging to be a local voice in Albany, Chris Tague marked two milestones on January 1:
His wedding and his swearing in.
Schoharie County Judge George Bartlett performed both ceremonies and Rev. Bert Mayne blessed the marriage in front of a crowd of several hundred family, friends, and supporters in SUNY Cobleskill's ballroom last Tuesday.
They're all one and the same, said Mr. Tague, so it only made sense to hold the events back-to-back and really kick off 2019 in style.
The wedding was a traditional affair—"The ladies are running late," Greene County GOP Chairman Brent Bogardus told the crowd to laughter—with Assemblyman Tague waiting until his swearing in to thank those who'd help elect him.
"There's no mistaking this is a dream come true for Chris," said attorney and friend Mike West before passing Assemblyman Tague the mic.
"Thank you for sharing this special day with me," Mr. Tague said, calling himself "a simple farm boy from Schoharie County. "I didn't make it here on my own…
"My firm resolve is to go back to Albany and make sure your voices are echoed there."
Assemblyman Tague defeated Greene County legislator and paramedic Aidan O'Connor in a special election last spring and then again in November.
He succeeds Pete Lopez, who resigned to become a regional administrator for the EPA in the fall of 2017.