BOCES culinary team wins ProStart--again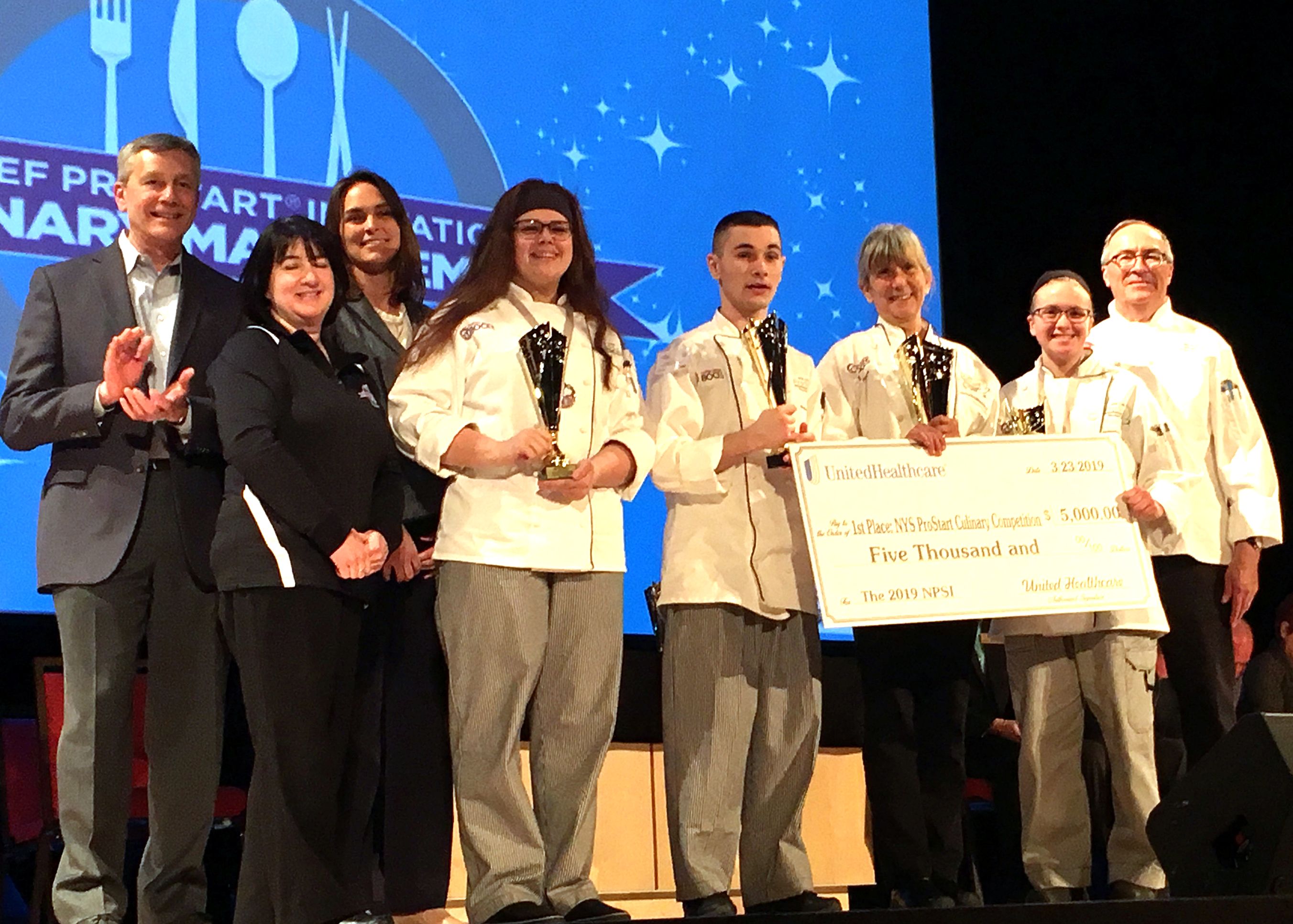 For the second consecutive year a Capital Region BOCES culinary team has won the challenging state ProStart culinary competition.
Career and Technical Education students Alexia Torres and Katelyn Manchester of Cobleskill-Richmondville as well as Logan Stephens of Middleburgh earned the state's top honors during the March 22-23 competition at the Culinary Institute of America in Hyde Park.
Alexia and Katelyn are seniors and were part of the 2018 state championship team that finished in the top 10 nationally.
This year's squad advances to the nationals in Washington, DC where they will compete against the top youth chefs from across the country May 8-10.
The three students, who are enrolled in Chef Nancy Iannacone's culinary program on the Schoharie campus, bested nine other teams from across the state and Vermont during the state competition. The students won scholarships to pursue further culinary education in college, as well as a $5,000 scholarship to pay their way to the national competition.
"There were scholarship envelopes from every college there," said Alexia.
The national ProStart event is touted as America's premier secondary school competition focused on restaurant management and culinary arts. During the National ProStart Invitational, nearly 400 student competitors put their skills to the test in front of industry leaders, National Restaurant Association trustees, state restaurant associations, and family and friends — all with hopes of earning coveted scholarships from the nation's premier culinary and restaurant management programs.
"It's really exciting. We have never been to Washington DC before so that's really cool," said Alexia.
Katelyn said that state competition was fun, but also educational.
"There was some tough competition – some people that made us a little nervous," she said.
"But based on the judge's critiques, we are going to tweak a couple of things so that will help us with nationals," Katelyn added. "They basically gave us some ideas on plating and different organization techniques."
"It's going to be a lot of fun going to nationals again," Alexia said. "I am looking forward to doing the best possible and winning."
To advance to the national competition, the Capital Region BOCES team had just 60 minutes using only using only two butane burners to create a meal consisting of orange glazed scallops, butternut squash puree, candied bacon and pine nuts and microgreens, pork tenderloin with apple date cherry chutney and sauce, potato mushroom cake and steamed broccoli butter.
For desert, the culinary trio prepared lemon ricotta fritters, white chocolate crème fraiche mousse, ginger blackberry coulis, candied almonds and coconut, macerated blackberries.