Baseball Hall of Fame celebrates American Legion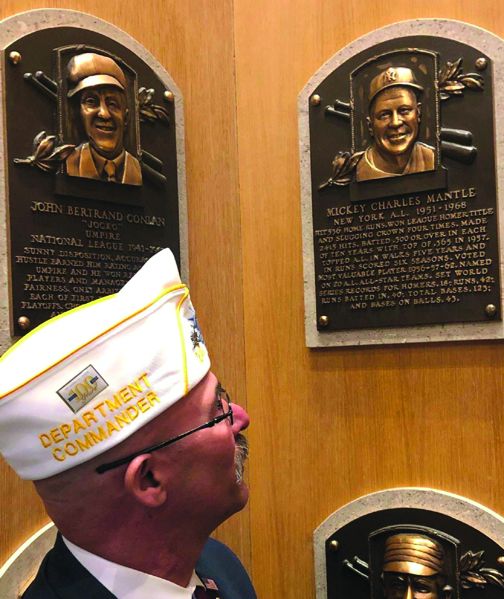 Service to the country and the national pastime became the all-American combination in Cooperstown Friday and Saturday.
The National Baseball Hall of Fame and Museum hosted a special weekend for the American Legion, which is celebrating its 100th anniversary this year.
Front and center for the two-day ceremony were recently-elected Hall-of-Famer Lee Smith and New York Department Legion Commander Gary Schacher of Cobleskill.
As a youngster, Mr. Smith played American Legion ball, as did fellow 2019 Hall of Fame inductees Mike Mussina, Harold Baines and the late Roy Halliday.
"As a 16- and 17-year-old, American Legion baseball really honed my skills," said Mr. Smith, one of the top relief pitchers in baseball history.
He also credited local military men for teaching him about discipline, hard work and determination necessary to succeed.
Mr. Schacher presented Scot E. Mondore, a Hall of Fame official who's also an Army veteran and Legion member, with a special commemorative bat in recognition of the Legion's 100th anniversary.
Joined by other Legion members from Schoharie and nearby counties, Mr. Schacher also gave a bat to Bruce Mayfield, New York State American Legion baseball chairman.
While service to his country is a top priority for Mr. Schacher, baseball is high on the list, also.
"I grew up outside of New York City, so I would go down quite often to Yankee Stadium and sit in the right field corner where they held the Reggie [Jackson] signs," he said.
"And right after I got released from active duty in the Navy, in 1983, I went to the July 4 game and got to see [Yankee] Dave Righetti throw a no hitter against the Red Sox."
One thrill for Mr. Schacher over the weekend was touring the Hall of Fame gallery, where plaques honoring baseball's best line the walls.
"They asked me who's my favorite player here. Mickey Mantle was it," said Mr. Schacher, noting his photo was taken next to the Yankee great's plaque.
"To kids he was everyone's hero back then."
Much of the weekend's focus was on the strong relationship between baseball and the American Legion.
Joe Shetakofsky, Hall of Fame vice president for communications and education, described Legion ball as part of the fabric of America.
"In this room, the most sacred space in the game of baseball, we're surrounded by 329 members of the Hall of Fame," he said.
"Of those, 81 were shaped by American Legion baseball, one-quarter of the all-time greats represented on these walls."
And, added National Legion Commander Brett Reistad, Legion baseball has helped develop young people for decades.
"American Legion baseball isn't just about playing sports," Mr. Reistad said. "It's about sportsmanship, physical fitness, learning to work as a team.
"Legion baseball started in South Dakota in 1925 and has flourished over the years. It's a mainstay of the American Legion Program. There are roughly 3,500 teams around the country. Many of those who played American Legion baseball made their way to this coveted location."
––Jim Poole contributed to this story.