Run 4 the Hills a winner for 1st responders
| | |
| --- | --- |
| 5/7/2019 | By Patsy Nicosia |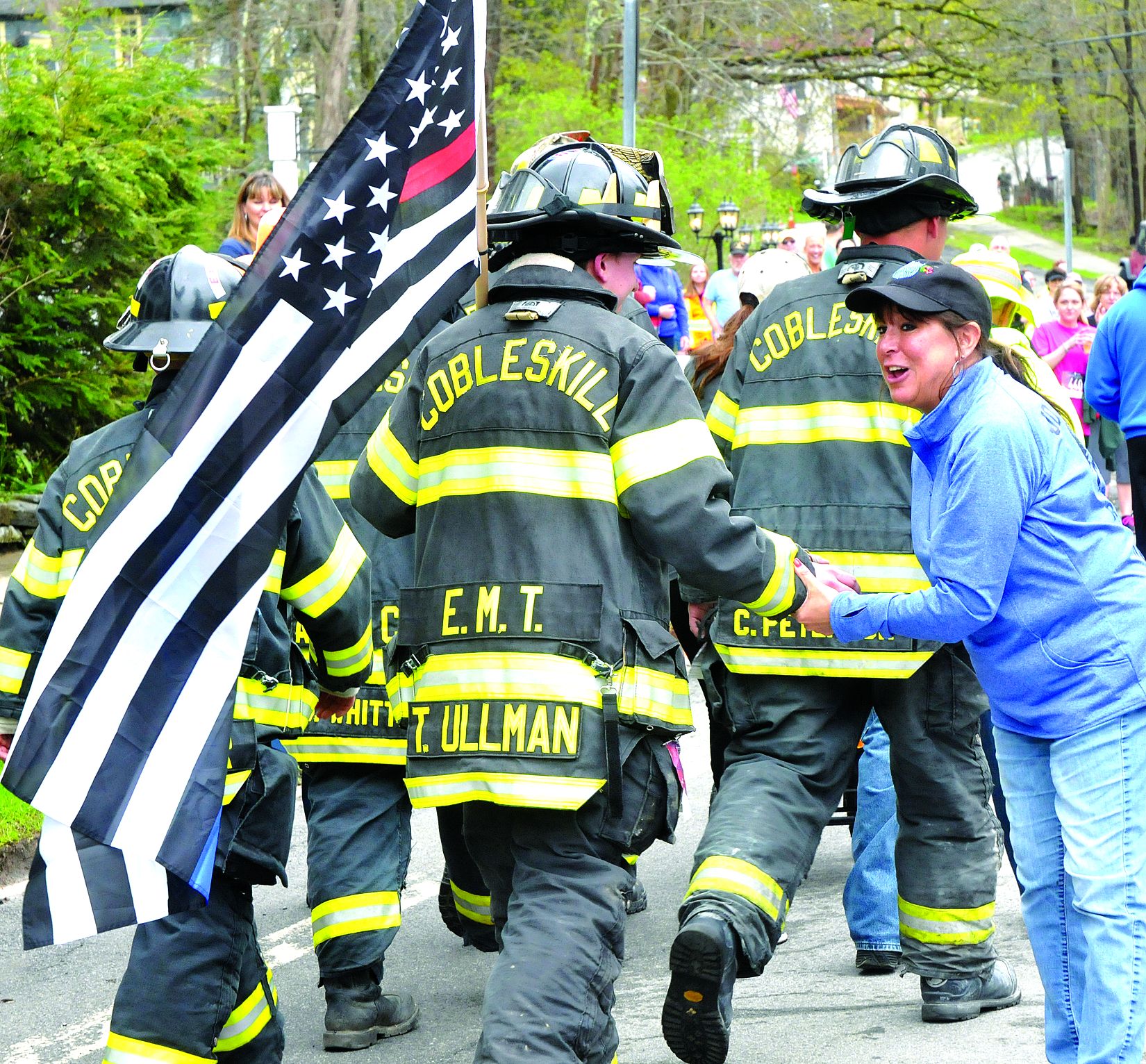 They came, they ran—some with 50 pounds of gear on their backs—and then they went home, together, appreciative and appreciated, 150 first responders who answered the call for Saturday's Run 4 the Hills.
This was the 6th year for the Sharon Springs event, created in response to the 2013 Boston Marathon bombings as a way to thank first responders and fundraise for equipment ad training.
"It is a tremendous honor to both recognize and support the brave men and women who make daily sacrifices to assure our safety," said Garth Roberts, race director and president of Hero Fund America, which oversees it all.
"It's amazing to see the turnout…it makes me so proud of what we're trying to do and of all of our volunteers."
Joining fire, law, and EMS runners and walkers in the Duty Gear Challenge were 400 other competitors—a record; hundreds more cheered them all on from the sidelines.
It was a party like only Sharon Springs can throw; Broadway veteran and "Cats" star Austin Jetton kicked it off with the National Anthem, Mayor Doug Plummer manned the Jello table before the final slog, and at least two Supermans ran the grueling four-mile course in flowing red capes.
Work on this year's Run 4 the Hills began nearly a year ago when Duty Gear Challenge Coordinator Patty Johnstone kicked off recruiting efforts at more than 50 pancake breakfasts, fire department dinners and other events, in the end pulling in teams from as far away as Colonie.
Before Saturday's race, Ms. Johnstone took one final ride around the course, checking in with volunteers, picking up last-minute trash, and crossing her fingers.
"Every single minute…it was all worth it," Ms. Johnstone said afterwards as she and Mr. Roberts urged the competitors across the finish line. "The camaraderie and pride in the air race day is electric, and our message is: We all go home. Nobody is left behind.
"Our first responders, runners and walkers, our volunteers…the hundreds of cheerleaders who support them on the course and at the finish line…This event wouldn't be what it's become without all of them."
But of course, it's a competition too, with runner Mark Stephenson capturing first place for the men in 24:55 followed by Ambrose Schaffer, 25:19, and Andrew Meka, 26:14.
Women's winner was Jill Nava, 27:43; second was Leah Schaffer, 31:37; and third, Lisa Abbott, 32:15.
The Schoharie County Sheriff's Office was honored for having the biggest community team; award for the largest student group went to Cobleskill-Richmondville's ZMK Construction team.
The top three finishers in the Duty Challenge EMS Division were Kelley Cramatte, Otego; Rose Walker, Cobleskill; and Pete Nichols, Cobleskill.
The Duty Challenge Law Division was won by Lou Dinuzzo of Colonie followed by David Nalley, NYS DEC Forest Rangers; and Todd Weiss, Colonie Police Department.
In the Fire Department Division, Lyman Tinc of Saratoga was first, followed by John Fisher and David Stolzfas, both of South Minden.
Awards for the best overall times went to: EMS—Cobleskill Rescue Squad; Law—Colonie PD; and Fire—South Minden.
Top fundraisers were: Jolene Costa, $1,202.66; the Sheriff's Office, $1,116.41; and the Westmere FD, $1,017.