The magic of Harold Toles Sunday at the Fort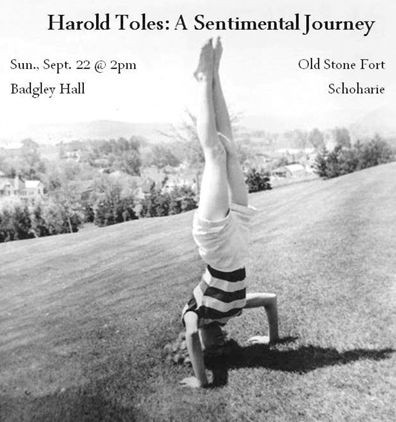 Local historian Peter Lindemann will present "A Sentimental Journey," a lecture and multi-media presentation on the extensive photography collection of the late Harold Toles at the Old Stone Fort Museum at 2 pm on Sunday, September 22.
Harold Toles took a lot of pictures.
In fact, if anything big happened in Schoharie County from 1948-1984, Mr. Toles was probably there with his camera.
The Old Stone Fort Museum Research Library has more than 150,000 of his negatives in its collection—a staggering number of images.
But thankfully, Mr. Toles kept notebooks – 13 in all – recording a description of each shot.
A Schoharie County Historical Society trustee, Mr. Lindemann has been going through this treasure trove for the past few months and has picked out some nuggets – sexy glamour shots, 1950s automobiles, interiors of local restaurants and bars – including the Stone Pony, the Mercury Club's Jigaramoo of 1951 and the husband-calling contest at the 75th annual Sunshine Fair.
There are even photos that Mr. Toles took of old photos – including some of Cobleskill Village in the 1870s – not seen in almost 70 years.
Mr. Lindemann has set some images to the music of Nat King Cole and 'Les Brown and his Band of Renown.'
The lecture will be held in the Badgley Museum Annex at the Old Stone Fort Museum. Admission is $5 for adults and free for students and Schoharie County Historical Society members. Refreshments will be provided. 
For more information on this and other events happening throughout the Schoharie County Historical Society and Old Stone Fort Museum's 130th Anniversary year, call (518) 295-7192 or visit the museum website at TheOldStoneFort.org.